There are millions of foreigners visiating many European cities every year, either for business or for pleasure by charter a yacht. Kas is a city which stands out among the rest. The city of Kas is a small fishing, diving and tourist destination within the Antalya province in Turkey. Kas is situated as a hill that goes into the water and the climate is usually dry and hot in the summer, typical for the Mediterranean region. It is this benefit that residents of Kas are able to grow numerous citrus fruits and vegetables for consumption and sale to others. Kas also produces plenty of almonds and honey and this is why some Turkish desserts are made with these staples.
Kas was founded by the Lycians and it endured Arab invasions before finally being conquered by the Ottomans. In the 1990s, the city started to boom with tourists and it has not been the same since that time. If you walk along the streets of Kas you will see sweet-smelling jasmine flowers along with nice cafes that serve traditional Turkish cuisine.
Gulet Yacht Charter in Kas
Kas is one of the most popular destination along the Mediterranean for gulet yacht charters. When the voyagers charter their yacht out of Gocek, Fethiye or Antalya, Kas is a certainly anchored point along the Lycian Coasts. Arriving to Kas by a yacht, is a perfect way to see the beauty of area. The most preferred itinerary which contains visiting the Kas are as departing from Gocek, Fethiye or Antalya. The city is very close to Meis (Kastellorizo) Greek island that is also voyagers stop by.
A Popular Activity in Kas: Scuba Diving
One of the best activities in Kas is scuba diving and with the beautiful blue water surrounding this city, there is no shortage of ways to enjoy the activity. You can choose from 30 different dive sites around the city of Kas and the various methods of scuba diving there include near underwater canyons, stone reefs, cave diving and near underwater exhibitions depending on the dive site you choose. While scuba diving at a particular dive site in the city, you will find creatures such as the barracuda, stingrays, octopuses, cuttlefishes and jackfishes. For those who do not know how to dive, you can take a scuba diving course while in the city.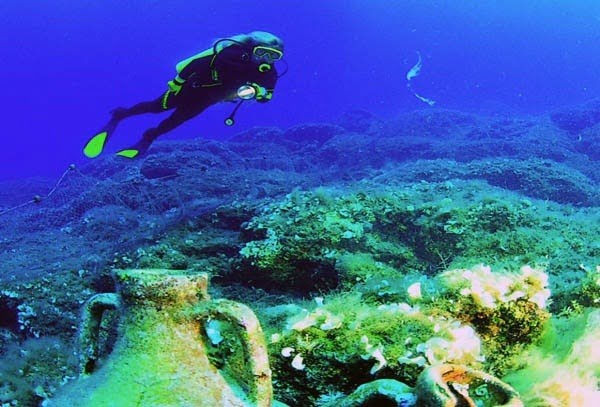 Church of St. Nicholas
This is an important landmark in Kas that you should visit because this is where St. Nicholas lived during the 4th century and many people flock to this church on St. Nicholas's feast day on December 6. This is an example of the many religious influences in Kas and the rest of Turkey besides the heavy Muslim influence since it is the predominant religion in Turkey.
Kayaking in Kas
You can also go on a sea kayaking tour while you are in Kas and this allows you the opportunity to be on the beautiful waters of the Aegean and Mediterranean Seas, and it gives you a breathtaking view of Kas altogether.
Trekking Tours
If you like walking tours you should go on some of the trekking tours that are offered throughout the city. One idea is to go on a tour that lets you trek from Kas to Limanagzi by way of a beach called the Buyuk Cakil. You can also choose a trekking tour that goes from the city of Phellos to Kas that lets you look at the ancient artifacts and structures. This offers the opportunity to physically see the beauty of the city of class.
Conclusion
Going on the above mentioned activities will let you see a side of Turkey that you have not seen before. This also offers a lesson on Turkey's ancient history and you are able to have a better understanding of Turkey's influences from other nations and how these influences affect Turkish culture today. From the scuba diving trips to a walking tour of Kas's ancient structures, you will enjoy your trip to the city and it will also be enjoyable for children. Finally, this trip to Kas is a good way to unwind and take a break from life's stresses.