Welcome to the ultimate guide to Turkey's gulet holidays! If you're dreaming of a unique and memorable vacation, then a gulet cruise in Turkey is the perfect choice. From the stunning turquoise waters of the Mediterranean to the charming coastal towns and ancient ruins, Turkey offers a truly remarkable experience.
In this comprehensive guide, we will provide you with everything you need to know to plan an unforgettable gulet cruise holiday in Turkey. From choosing the right gulet and understanding the different routes and itineraries to exploring the must-visit destinations and indulging in the delicious local cuisine, we have you covered.
Whether you're a first-time cruiser or a seasoned traveller, our expert tips and recommendations will ensure that you make the most of your time on board. Discover the best time to go, what to pack, and how to book your Gulet cruise with confidence.
So, get ready to set sail on a breathtaking adventure along the Turkish coast and discover the beauty and wonder that awaits you on a Gulet cruise holiday. Let's make your dreams of exploring Turkey's hidden gems a reality!
What is a Gulet?
A Gulet is a traditional Turkish wooden sailing yacht that is designed explicitly for cruising along the beautiful Turkish coast. These vessels are known for their elegant design, spacious interiors, and comfortable accommodations. Gulets typically range in size from 15 to 40 meters and can accommodate anywhere from 6 to 20 passengers.
Gulets are built with a combination of traditional craftsmanship and modern amenities, offering a perfect blend of authenticity and comfort. Each Gulet is unique in terms of design and layout. Still, they generally feature cosy cabins with en-suite bathrooms, a spacious deck for sunbathing and dining, and a fully equipped kitchen where the onboard chef prepares delicious meals.
The beauty of a gulet lies in its ability to provide an intimate and personalized cruising experience. Unlike larger cruise ships, gulets can access smaller and more secluded bays and coves, allowing passengers to explore hidden gems inaccessible to other vessels. With their friendly and experienced crew, gulets offer a warm and welcoming atmosphere, making you feel at home throughout your journey.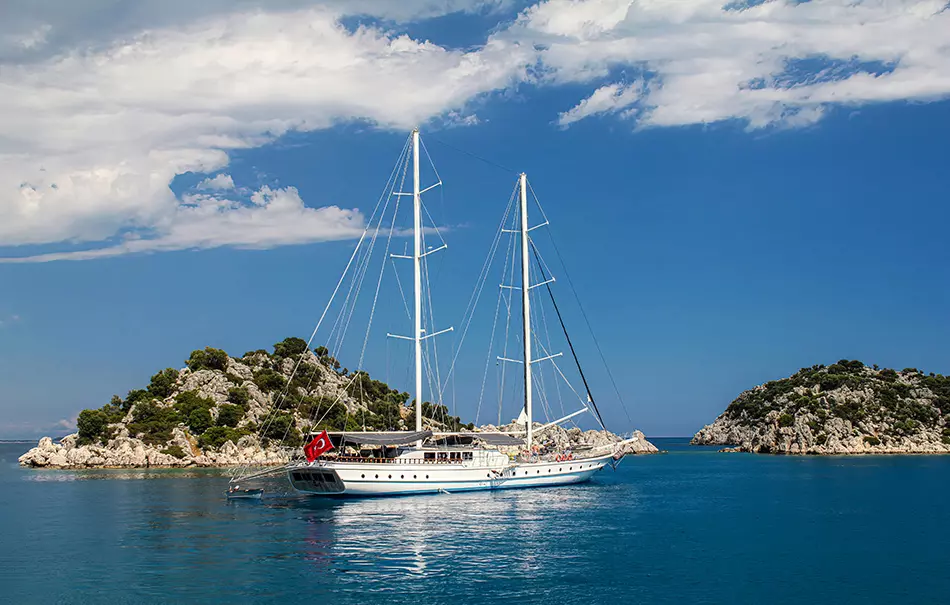 Why choose a gulet cruise holiday in Turkey?
Turkey is a country of breathtaking beauty, rich history, and vibrant culture, making it an ideal destination for a Gulet cruise holiday. Here are some compelling reasons why you should choose Turkey for your next cruising adventure:
Stunning landscapes: Turkey boasts some of the most picturesque landscapes in the world. From the crystal-clear waters of the Mediterranean to the rugged cliffs and sandy beaches, the Turkish coast offers a mesmerizing backdrop for your gulet cruise.
Historical treasures: Turkey is home to countless historical sites and ancient ruins. Imagine exploring the ruins of Ephesus, walking through the ancient city of Knidos, or visiting the iconic rock tombs in Dalyan. A Gulet cruise in Turkey allows you to immerse yourself in history and witness the wonders of the past up close.
Delicious cuisine: Turkish cuisine is renowned for its flavours and variety. On a Gulet cruise, you'll have the opportunity to savour traditional Turkish dishes prepared by talented onboard chefs. Indulge in mouthwatering mezes, freshly caught seafood, and delectable desserts while enjoying the stunning views of the Turkish coastline.
Warm hospitality: Turkish people are known for their warm hospitality and friendly nature. From the moment you step on board your Gulet, you'll be greeted with a warm welcome and attentive service. The crew members will go above and beyond to ensure that your needs are met and that you have a memorable experience.
Flexibility and freedom: Unlike traditional cruises, gulet cruises offer a high level of flexibility and freedom. You can choose your own itinerary, decide how long you want to stay in each destination, and even request special activities or excursions. This level of customization allows you to tailor your cruise to your preferences and make the most of your time in Turkey.
Types of gulet cruise holidays
When it comes to Gulet cruise holidays in Turkey, there are various types of cruises to choose from, each catering to different preferences and interests. Here are some of the most popular types of Gulet cruises:
1. Relaxation cruises: If your goal is to unwind, relax, and soak up the sun, a relaxation cruise is perfect for you. These cruises focus on leisurely sailing, swimming in secluded bays, and enjoying the tranquillity of the Turkish coast. You'll have plenty of downtime to read a book, sunbathe, or simply enjoy the breathtaking views.
2. Adventure cruises: For the more adventurous souls, an adventure cruise offers a combination of thrilling activities and exploration. From snorkelling and diving in vibrant underwater ecosystems to hiking ancient trails and exploring hidden caves, these cruises are designed to satisfy your thirst for adventure.
3. Cultural cruises: If you're interested in immersing yourself in the rich cultural heritage of Turkey, a cultural cruise is the perfect choice. These cruises focus on visiting historical sites, exploring traditional villages, and engaging with the local culture. You'll have the opportunity to attend local festivals, participate in traditional cooking classes, and interact with the friendly locals.
No matter what type of Gulet cruise you choose, you can expect a truly unique and unforgettable experience. The combination of luxurious accommodations, personalized service, and breathtaking scenery will leave you with memories that will last a lifetime.
Popular destinations for gulet charter in Turkey
Turkey offers a plethora of stunning destinations to explore during your Gulet cruise. Here are some of the most popular destinations that should be on your itinerary:
1. Fethiye: Located on the southwestern coast of Turkey, Fethiye is a vibrant coastal town known for its stunning natural beauty and historical sites. Visit the picturesque Oludeniz Beach, explore the ancient Lycian Rock Tombs, or hike the famous Lycian Way trail for breathtaking views of the coastline.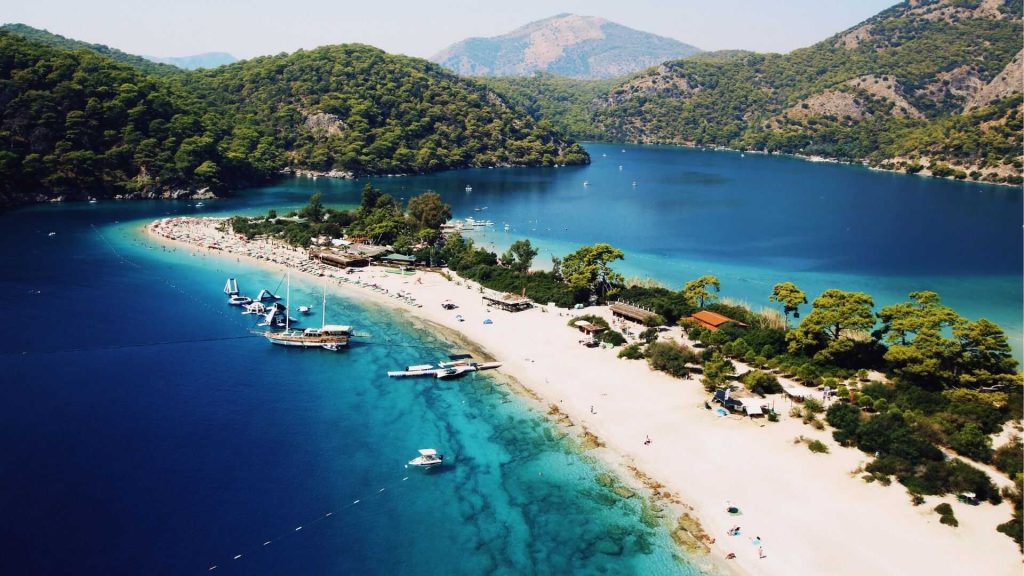 2. Bodrum: Bodrum is a trendy and lively resort town that offers a perfect blend of history and modernity. Explore the imposing Bodrum Castle, visit the ancient city of Halicarnassus, or indulge in the vibrant nightlife and shopping scene. Bodrum is also a great starting point for exploring the nearby Greek islands.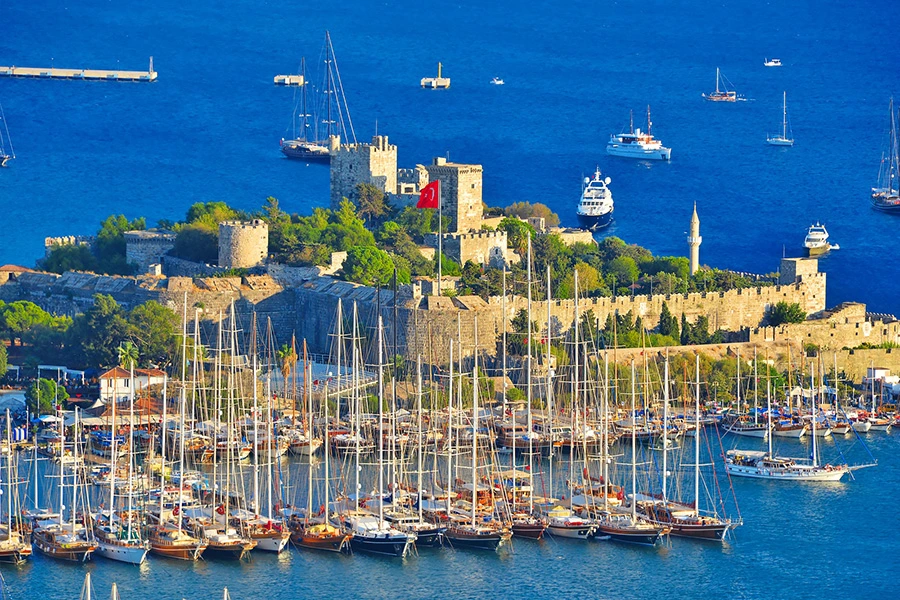 3. Marmaris: Marmaris is a popular tourist destination known for its beautiful beaches, vibrant nightlife, and bustling bazaars. Take a stroll along the picturesque Marmaris Marina, visit the historic Marmaris Castle, or simply relax on the sandy beaches and soak up the sun.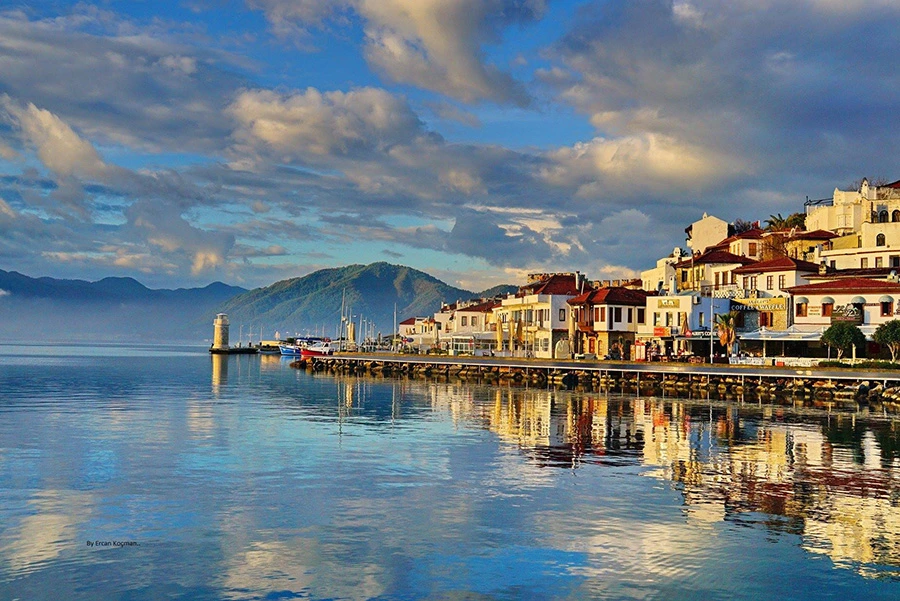 4. Kas: Nestled between the mountains and the sea, Kas is a charming coastal town that offers a laid-back and authentic atmosphere. Explore the charming cobbled streets, visit the ancient theatre, or take a boat trip to the nearby Kekova Island to see the sunken city.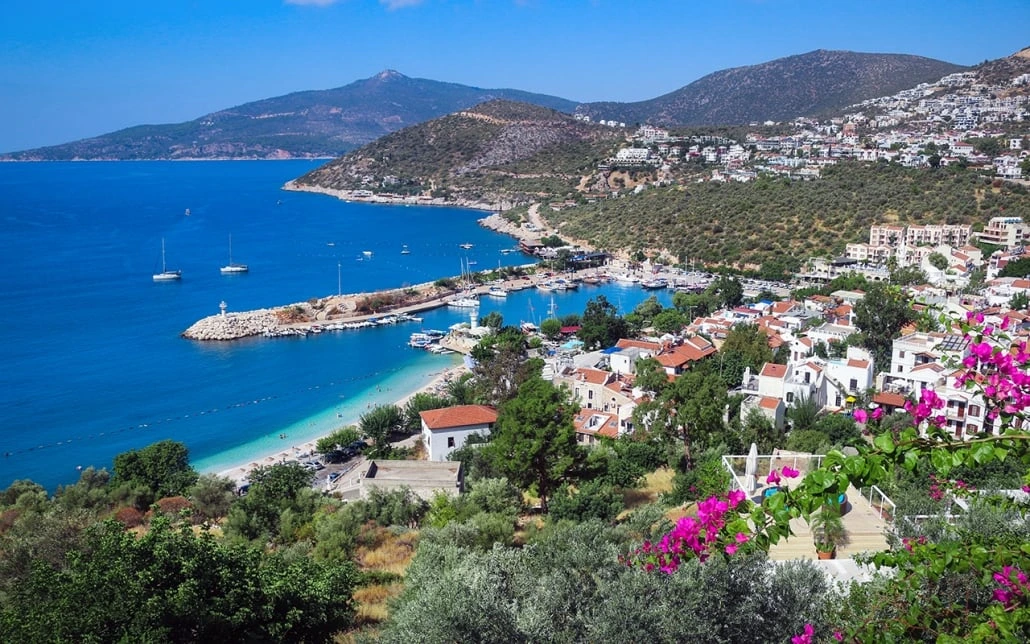 These are just a few examples of the many incredible destinations you can explore during your Gulet cruise in Turkey. Each destination offers its own unique charm and attractions, ensuring that you'll never run out of places to discover.
Planning your gulet cruise itinerary
Planning your Gulet cruise itinerary is an exciting part of the journey. Here are some factors to consider when planning your itinerary:
1. Duration: Decide how long you want your gulet cruise to be. Whether you have a week or two or even longer, you can find a cruise that fits your desired timeframe.
2. Destinations: Choose the destinations you want to visit during your cruise. Consider the activities and attractions available in each destination and choose the ones that align with your interests.
3. Route: Gulet cruises in Turkey offer various routes depending on your preferences. Some cruises focus on the western coast, while others explore the eastern coast. Research the different routes available and choose the one that covers the destinations you want to visit.
4. Activities: Consider the activities you want to experience during your cruise. Whether it's swimming in crystal-clear waters, exploring ancient ruins, or simply relaxing on deck, make sure your itinerary includes the activities that will make your cruise memorable.
5. Special requests: If you have any special requests or interests, such as celebrating a special occasion or engaging in a specific activity, communicate them with the cruise operator in advance. They will do their best to accommodate your requests and ensure that your cruise is tailored to your preferences.
Planning your Gulet cruise itinerary requires careful consideration of your preferences and interests. Take the time to research and explore the options available to ensure that your itinerary includes all the highlights that you don't want to miss.
What to expect on a gulet cruise
A Gulet cruise in Turkey offers a unique and unforgettable experience. Here's what you can expect during your Gulet cruise:
1. Comfortable accommodations: Gulets provide cosy and comfortable accommodations. Each cabin is equipped with en-suite bathrooms, air conditioning, and ample storage space. You can expect a good night's sleep and all the necessary amenities to make your stay comfortable.
2. Delicious cuisine: Food is an integral part of a gulet cruise experience. Onboard chefs prepare delicious meals using fresh and locally sourced ingredients. From traditional Turkish dishes to international cuisine, you'll be treated to a culinary journey that will delight your taste buds.
3. Relaxation and leisure: Gulet cruises are all about relaxation and leisure. Whether you choose to sunbathe on deck, swim in the crystal-clear waters, or simply enjoy the stunning views, you'll have plenty of opportunities to unwind and enjoy the peaceful atmosphere.
4. Exploration and activities: Gulet cruises offer a wide range of activities and excursions. From visiting historical sites and exploring ancient ruins to snorkelling, diving, and water sports, there's something for everyone. The crew will ensure that you have a memorable and enjoyable experience during your time on board.
5. Warm and attentive service: The crew members on a gulet cruise are dedicated to providing exceptional service. From the captain to the chef and the deckhands, everyone is committed to ensuring that you have a comfortable and enjoyable experience. The crew will go above and beyond to meet your needs and make you feel welcome.
A Gulet cruise is a perfect blend of relaxation, exploration, and luxury. Whether you're looking to unwind, explore historical sites, or indulge in delicious cuisine, a gulet cruise in Turkey offers something for every traveller.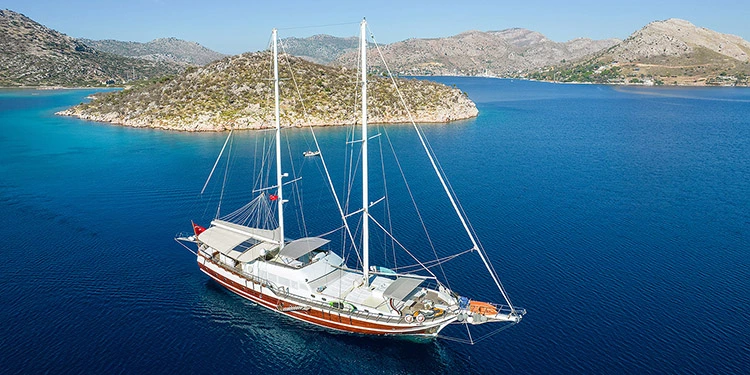 Tips for a memorable Gulet cruise experience
To make the most of your gulet cruise experience, here are some tips to keep in mind:
1. Pack wisely: Pack light and bring comfortable clothing, swimwear, sunscreen, a hat, and sunglasses. Remember to bring a beach towel and any personal items you may need.
2. Stay hydrated: It's important to stay hydrated during your cruise, especially when spending time under the sun. Bring a reusable water bottle and refill it regularly to ensure you stay hydrated throughout your journey.
3. Be prepared for the weather: The weather in Turkey can vary depending on the season. Check the forecast before your trip and pack accordingly. Bring a light jacket or sweater for cooler evenings and a waterproof jacket in case of rain.
4. Bring cash: While most Gulet cruises include meals and some activities, it's a good idea to bring some cash for additional expenses, such as drinks, souvenirs, and tips for the crew.
5. Disconnect and enjoy: Take this opportunity to disconnect from the digital world and fully immerse yourself in the experience. Put your phone away, enjoy the stunning views, and engage with your fellow passengers and crew members. This is your chance to relax and unwind truly.
By following these tips, you'll ensure that your gulet cruise experience is memorable and enjoyable. Embrace the unique atmosphere, soak up the beauty of the Turkish coast, and create lasting memories that you'll cherish for years to come.
How to book a gulet cruise in Turkey
Booking a Gulet cruise in Turkey is a straightforward process. Here's a step-by-step guide to help you:
1. Research: Start by researching different gulet cruise operators and the types of cruises they offer. Read reviews, compare prices, and consider the itineraries and destinations covered.
2. Contact operators: Once you've narrowed down your options, contact the cruise operators directly to inquire about availability, prices, and any additional information you may need. Ask about the specific Gulets they have available and the services and amenities included.
3. Choose your cruise: Based on your research and conversations with the operators, choose the cruise that best fits your preferences and budget. Consider the itinerary, the size and amenities of the Gulet, and any special requests you may have.
4. Book your cruise: Once you've made your decision, confirm your booking by providing the necessary information and paying the required deposit. Make sure to read and understand the terms and conditions of the booking before finalizing.
5. Prepare for your cruise: As your cruise date approaches, make sure to prepare accordingly. Pack your bags, double-check your travel documents, and inform the cruise operator of any special requests or dietary restrictions.
Booking a gulet cruise in Turkey is an exciting process that allows you to tailor your experience to your preferences. Take the time to research and choose a cruise that matches your expectations, and soon, you'll be embarking on a remarkable journey along the Turkish coast.
Conclusion
A gulet cruise holiday in Turkey offers a unique and unforgettable experience. From exploring historical sites and enjoying delicious cuisine to relaxing on deck and swimming in crystal-clear waters, a Gulet cruise allows you to discover the beauty and wonder of the Turkish coast in style and comfort.
In this ultimate guide, we've covered everything you need to know to plan your gulet cruise holiday in Turkey. From understanding what a gulet is and why Turkey is the perfect destination to choosing the right cruise, exploring popular destinations, and booking your cruise with confidence, we've provided you with all the information you need to make your dreams of a Gulet cruise a reality.
So, start planning your adventure today, and get ready to set sail on a breathtaking journey along Turkey's stunning coastline. Indulge in the beauty, history, and culture that Turkey has to offer and create memories that will last a lifetime. Your gulet cruise holiday awaits!