Looking for a luxurious and unforgettable vacation? Look no further than a luxury yacht charter in Turkey. With its stunning coastline, clear waters, and rich history, Turkey is the perfect destination.
Luxury yacht charters in Turkey offer endless options. From classic wooden gulets to modern mega-yachts, there's a vessel for every taste and budget. Explore the Aegean or Mediterranean coastlines, each with unique charms.
The Aegean coast is a popular destination. Picture-perfect villages, secluded coves, and clear waters make it ideal for unwinding. Explore ancient ruins, swim in turquoise Oludeniz, or relax onboard your yacht.
For a livelier experience, head to the Mediterranean coast. From bustling Bodrum to glamorous Antalya, there's plenty to do. Enjoy shopping, dining, nightlife, or discover hidden gems along the stunning coastline.
Wherever you choose, a luxury yacht charter in Turkey promises an unforgettable experience. With its breathtaking coastline, rich history, and natural beauty, Turkey is perfect for a luxurious and relaxing vacation. Don't wait—book your yacht charter today and start exploring all this stunning country has to offer.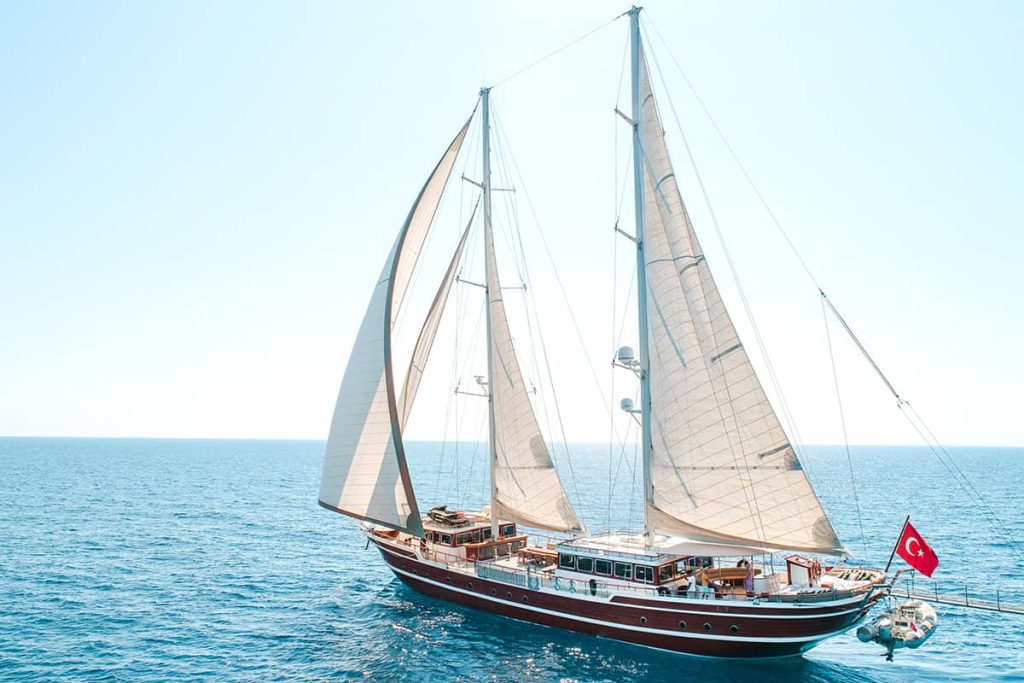 How much does it cost to book a luxury yacht in Turkey?
Booking a luxury yacht in Turkey varies in cost based on factors like yacht type, rental duration, time of year, and additional services.
As a general guideline, luxury yacht charters during the high season in Turkey range from €17.000 to €70,000 per week. Larger or more luxurious yachts may cost more. Keep in mind, expenses like food, beverages, water sports are typically not included.
For an accurate quote, please contact us. We can provide details on available yachts, pricing, and included services.
What is included in a luxury yacht charter?
A luxury yacht charter offers various amenities and services for a delightful experience:
Comfortable Accommodation: Spacious cabins with en-suite bathrooms, air conditioning, and entertainment systems.
Dedicated Crew: Professional staff, including captain, chef, and stewardesses, attending to guests' needs.
Delectable Dining: Gourmet meals and tailored menus to suit preferences and dietary requirements.
Exciting Water Activities: Motorized water sports, Snorkeling, kayaking, fishing, and more for water sports enthusiasts.
Onboard Entertainment: TV, music systems, gaming consoles, satellite TV, and internet access.
Tailored Itinerary: Assistance in planning destinations, activities, and shore excursions.
Extra Services: Optional spa treatments, massages, and beauty services upon request.
Note that inclusions may vary based on yacht size, location, and guest preferences. Contact Gulet Voyage for a personalized and unforgettable experience.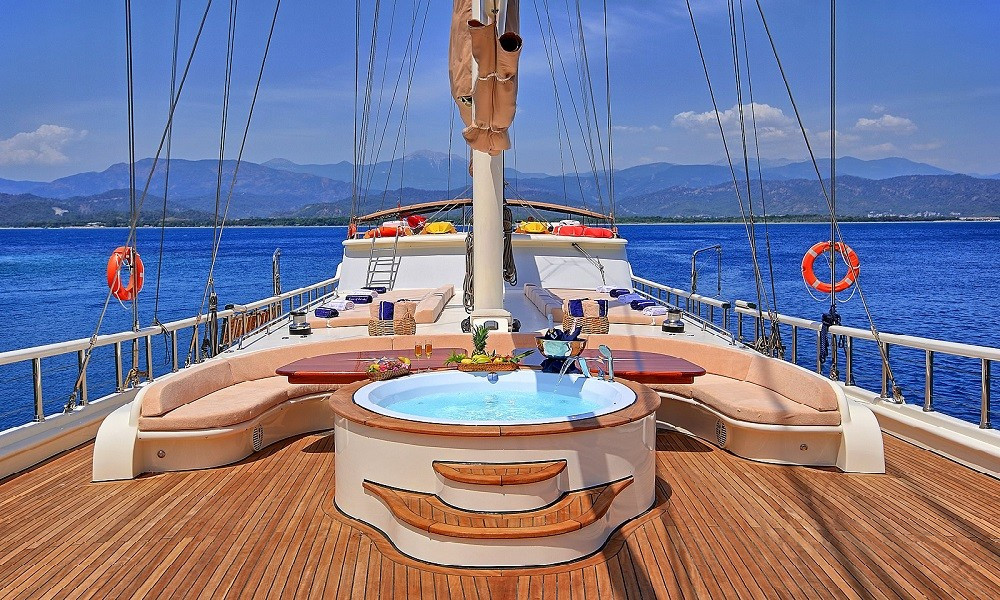 Who pays for the food on yacht charter?
Food costs are typically covered in the overall yacht charter fee. Most charters operate on an all-inclusive basis, bundling food, beverages, and onboard amenities into the total price. However, some charters offer partially-inclusive or fully-exclusive options, affecting food and beverage provisions. To understand the specifics, consult the charter company or broker for details on what's included in the price.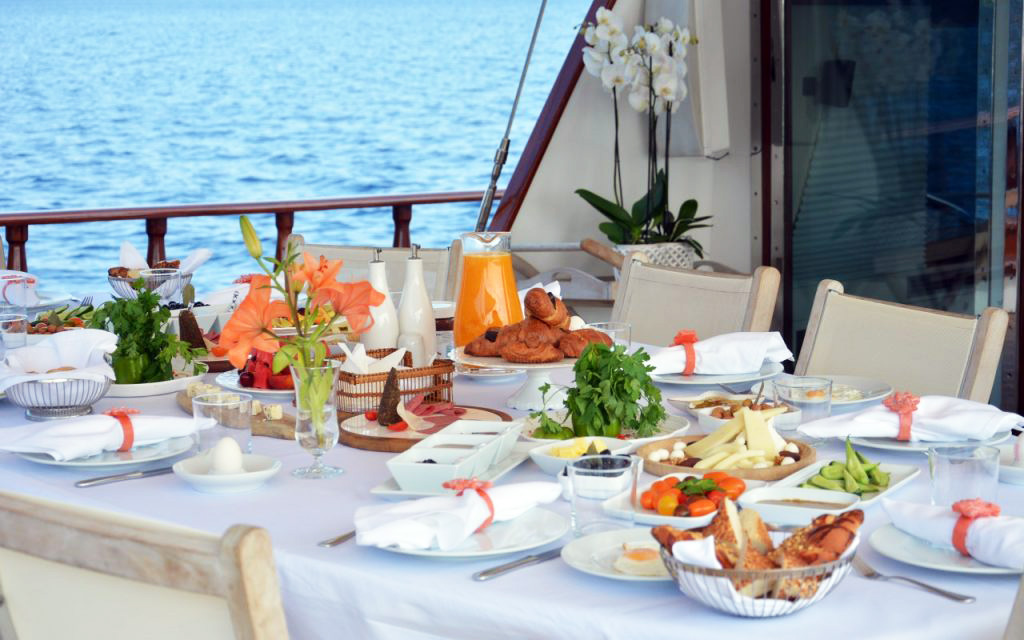 What do you do on a yacht charter?
Experience the ultimate luxury vacation on a yacht charter. Enjoy a private, fully-equipped yacht with all the comforts you need. Sail to different destinations, explore beaches, visit towns, or simply relax and admire the scenery.
Activities include swimming, snorkeling, fishing, water sports, and sunbathing. Indulge in gourmet meals by a private chef, sip fine wines, and cocktails with breathtaking views.
Yacht charters are ideal for families, couples, friends, seeking a unique and unforgettable vacation. Discover new destinations or unwind—a perfect blend of luxury, adventure, and relaxation.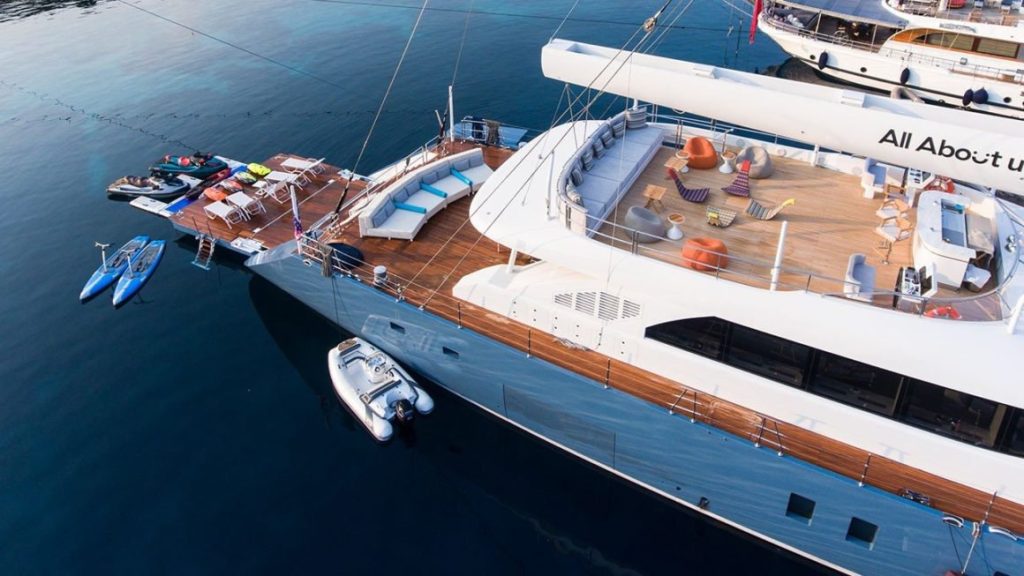 How long is a luxury yacht charter season in Turkey?
The luxury yacht charter season in Turkey spans from April to October. Enjoy warm, sunny weather, calm seas, and favorable winds for exploring the stunning coastline and nearby islands.
Peak season is June to September, with the warmest weather and ideal sea temperatures for swimming and water sports. Booking in advance is recommended due to high demand.
Shoulder season in April to May and September to November offers pleasant weather and fewer crowds, perfect for a quieter and relaxed experience.
Turkish luxury yacht charters provide an array of options for an unforgettable vacation—explore the coastline, indulge in water sports, or simply relax on a luxurious yacht under the Mediterranean sun.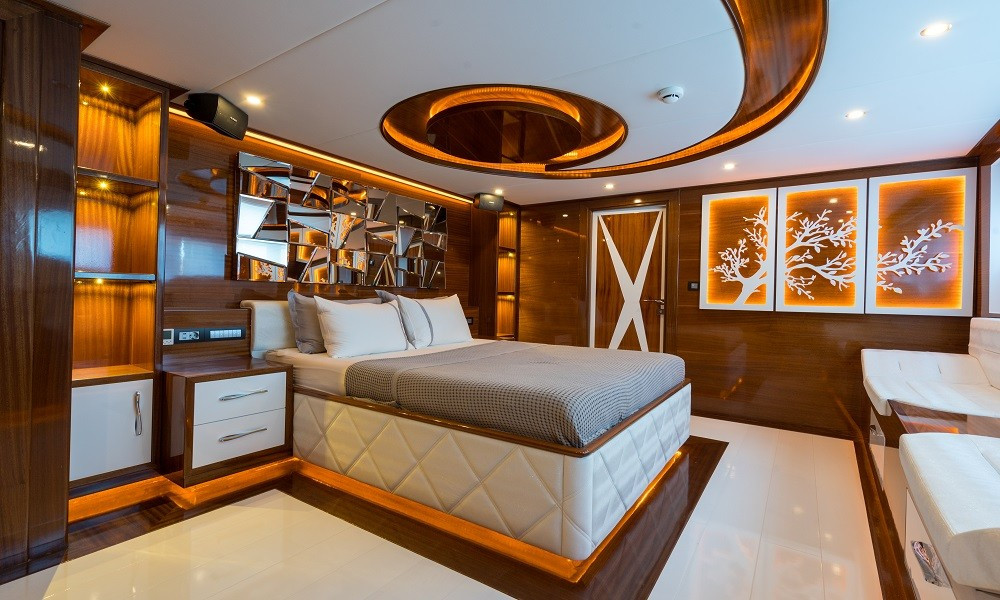 Is food and drink included in a yacht charter?
When it comes to yacht charters, it's your call whether you want food and drinks included. Some charters provide basics like water, soft drinks, and snacks, while others offer more comprehensive meal plans. If you're unsure about what's included or need help budgeting for groceries or catering, just let us know, and we'll gladly assist you!