Chartering a yacht or cruising on a boat has become a new vacation trend these days, especially to those who are fascinated with ships—be it a small ship, adventure ship, expedition ship, classic wooden ship, or river cruising vessel. By cruising, people can go to intriguing and wonderful destinations—be it in the Arctic or in Europe.
There are as many types of cruise ships as there are many types of cruising adventures. Cruise ships differ depending on their passenger capacity and destination. For instance, mega cruise ships are designed for intimate to extravagant cruise experiences. There are also other types of cruises for specific functions, such as for remote destination or for ultimate luxury.
The most common type of cruise line is the mainstream cruise liner which can accommodate up to 3,000 passengers. Others call this type the floating resort because it also provides various amenities and services, such as restaurants, shopping malls, bars, gyms, casinos, libraries, spas, and arcades.
River cruise ships, on the other hand, travel along rivers and other inland waterways. As to size, they are smaller than ocean cruises. They also have different designs depending on the purpose, whether for relaxation or for extreme adventure. Other cruise ships are luxury ships which are high-end vessels; adventure cruise ships designed for audacious travelers who want to go to remote destinations; and expedition cruise ships which are quite similar to adventure ships except that they can enter more isolated destinations.
Gulet Cruise Yachts: The New Face of Cruising
One not-so-common type of cruise ship to which many people have not heard of is the gulet cruise yachts which is customary in Turkey. The Turks borrowed the word gulet from the Venetian word Goleta, meaning schooner, another term for yacht. A gulet is a conventional design of a 2- or 3-masted wooden sailing vessel common in Turkey's southwestern coast. Gulet yachts are built in the coastal towns of Marmaris, Bodrum and Fethiye but there are some that are made in Istanbul and the eastern Mediterranean.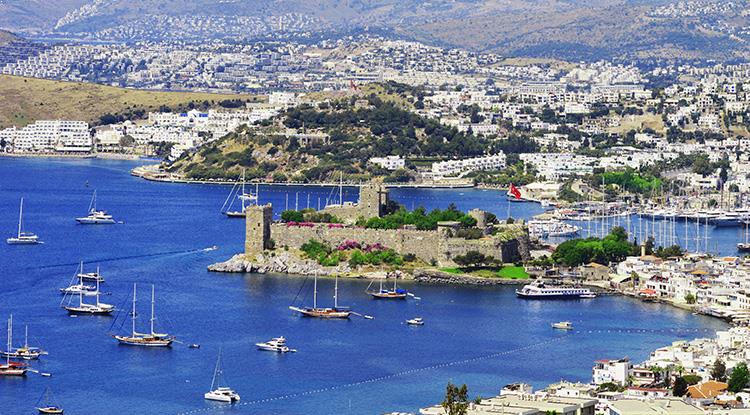 During the earlier days, gulet yachts were designed to address the need to carry tourists from the Aegean region to nearby bays. There were also chamberless gulets in the earlier years; these were used in fishing or sponging. Recently, gulet yachts have become popular tourist charters.
If you are planning your next vacation, consider the gulet cruise holidays. Every gulet cruises in Turkey is a new adventure and one of a kind experience in your lifetime. Highlights of a blue cruise include visiting ancient cities, coastal towns, and local villages to experience the wonderful culture of the country; cruising along the Mediterranean coast; visiting other archaeological places in ancient Lycia and Caria regions; snorkeling; hiking; swimming; and experiencing the Mediterranean dishes.
Choosing the right gulet cruise organizer
There are many tour organizers that arrange holidays in Turkey. Most of the tour organizers include in their itineraries transfers to and from airports, meals, and all entrance fees to tourist destinations. There are plenty of choices when it comes to choosing the perfect Turkey holidays. Here are some helpful tips to guide you in choosing the right tour organizer:
– Consider the one that has a quality line of vessels.
– Pick the one that can offer comfort and convenience.
– Choose the organizer that offers gulet charters at an affordable cost without compromising the quality of service.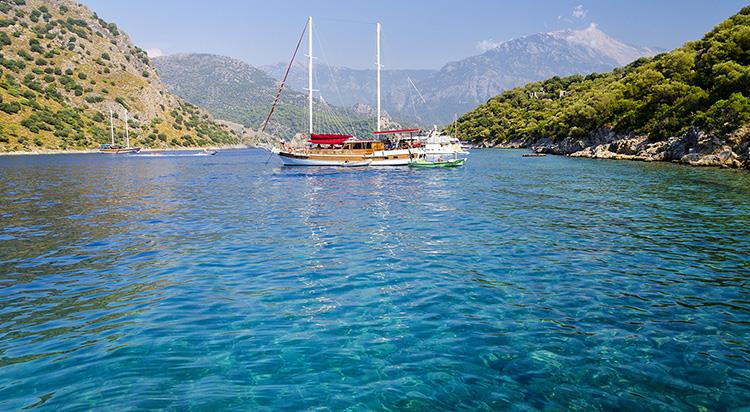 During gulet cruises, yachts are moored in a beautiful bays for a swimming break or for a lunch/dinner.
A few tips to consider for private gulet cruise
There are organizers that offer private gulet charters or gulet cruises holidays specially designed for smaller groups. If you are planning a private charter for sailing cruise, here are a few tips to consider:
– Choose the right charter. It may be by a standard gulet or a luxury gulet.To do this, there are many yacht charter company on the Internet that feature different kinds of yachts, including gulets. Choose the one that suits you best.
– Consider the cost. The larger the gulet, the bigger the cost. Newer yachts are also more expensive. But well designed and the featured ones can be also expensive. Another factor that affects cost is the length of travel. To save, watch out for promotions and discounts offered by charter company. Generally, Turkish gulets are programmed for chartering for one week – mostly in high season: July and August – , departing on Saturdays. During the low season including April, May and October, yachts can be chartered for 3-5 days.
– Pack wisely. The rule of the thumb in chartering is this: the less baggage you have, the better. Just bring the things that are necessary for the trip. Some items worth considering are sun hats, sneakers, bathing suits, windbreaker, and sunblock. If you are going to a place with cooler climate, thermal wears will be a lot of help. And of course, do not forget identification cards, passports, as well as medicines. Most of the tour organizers give suggestions on what to bring for the specific trip.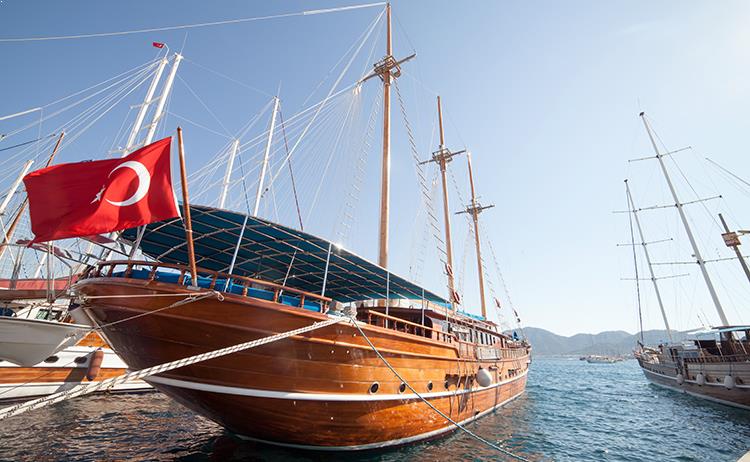 A wooden gulet, docked at Marmaris Port, Turkey
As time goes by, gulet cruising in Turkey has become popular, probably because it has become a byword for those who have experienced it. Magazines and the on-line world also feature good things about it. In, this kind of getaway has risen in popularity.
If you are looking for a new kind of adventure with your family and children or with you friend group, a gulet adventure in Turkey is definitely the right one for you. This kind of trip guarantees that you will enjoy every bit of it—from the splendid swims in Turkey's clear blue seas to the magnificent walks along the coastlines. In signing up for Turkey gulet cruises, you will surely enjoy the mouthwatering taste of Mediterranean cuisine.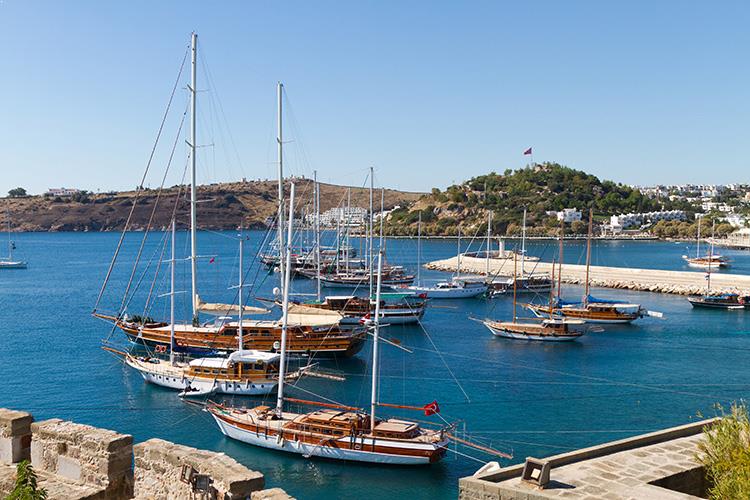 Gulet yachts ready to start their cruises out of Bodrum,Turkey
With regards to the cost of gulet cruises
Prices of gulet holiday can vary, depending on several factors like season, category of gulet, location-available port, and age of the boat. Prices are high during summer called high season: July and August, but prices are lower during low-season such as April, May or October. If you are not constrained by work schedule, it is better to go on a gulet charter vacation during regular days to avoid high cost.
So, what are you waiting for? See what gulets we have and embark on an exceptional gulet voyage in Turkey!
Continue to browse gulet yachts for charter here
or see the itineraries of gulet cruises by cabin charters here