A gulet cruise in Turkey is the ultimate in luxury and sightseeing. These kind of cruises are designed to help hard workers have an opportunity to relax and see unique sights, like ancient historical ruins, as well as memorable water features, like bays, harbors, coves and beautiful Turkish gulet yachts. Fortunately, for cruisers, there are several options and price points.
Intimate Gulet Cruise Vacations
Gulet cruise options are particularly memorable because the gulet boats are so much smaller than the average cruiseship. Gulets were first used by sponge divers and they were all built by hand. Modern gulet cruise boats for charter are still hand-crafted and most have room for up to 24 guests or as few as four guests. The cabins range in size from twin, double, and master sizes.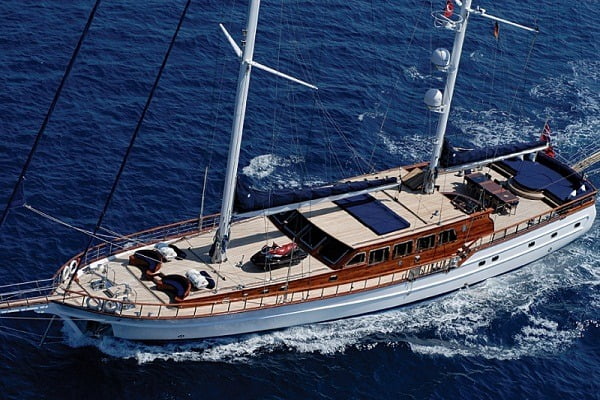 Delicious Epicurean Treats with Unforgettable Views
The activities on deck are just as memorable as those in the water. Gulet cruise opportunities include top professional chefs who design fabulous meals full of flavor and visual appeal. The captain and chef work together so that diners can not only enjoy the burst of flavors in each meal, but they can enjoy them with an unforgettable view of Spain, Italy, or Turkey.
If you love to eat fresh fish and other local foods, you will love the meals on board a gulet cruise. Most Turkish gulet trip vacations also include beverages like local wines and beers along with juices and sodas, too. Breakfasts tend to be continental in style so that cruisers can go about their days without having to worry about what they are going to eat in the morning.
Limited Sailing Time and Plenty of Play Time
Before you go on a gulet cruise, there are several things to consider and some tips for gulet cruise planners to know. The first is the amount of sailing time that each gulets travels. Most captains try to avoid using the motor, so they can travel by sail that is the enjoyable way of cruising. According the available of sailing equipment of boats, the gulets usually only sail for two-three hours on a daily basis, meaning that you will have plenty of opportunity to enjoy the water and the activities around the clear water! Guests enjoy kayaking, swimming, and other water sports. The coasts of the Turquoise Coasts are perfectly warm and calm so travelers can enjoy water sports without fear. Mostly deluxe and high deluxe classes gulets are fully equipped water toys.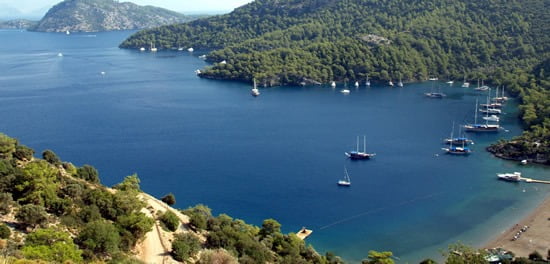 Schooners of the Highest Class
If you are worried about having to dive for sponges while you are on board your Turkish gulet boat, you do not have to worry. Today's gulet boats are modeled after the French schooner (goulette). They have two masts and they are full of comfort. These boats may not have the same facilities as the large cruise ships.
When you are ready to take a cruise on a gulet, you will have to book the cruise between the spring and autumn. The cruises have limited availability, so they fill up quickly. Gulet cruise programs with different itineraries have been in business for many years and they know how to help new cruisers understand the ins and outs of the journey. Many of the gulet cruise companies will even arrange for personal rides that can be customized to meet the needs of any couple or group.
You may also continue to How to Plan and Book a Gulet Cruise