Differ from the other charter options, such as private yacht charters or sailing yacht charters, we offer another charter option for Blue Cruise in Turkey on a shared gullet yacht in other words cabin charter. This charter is intended for singles, couples or small groups and named as yacht cabin charter.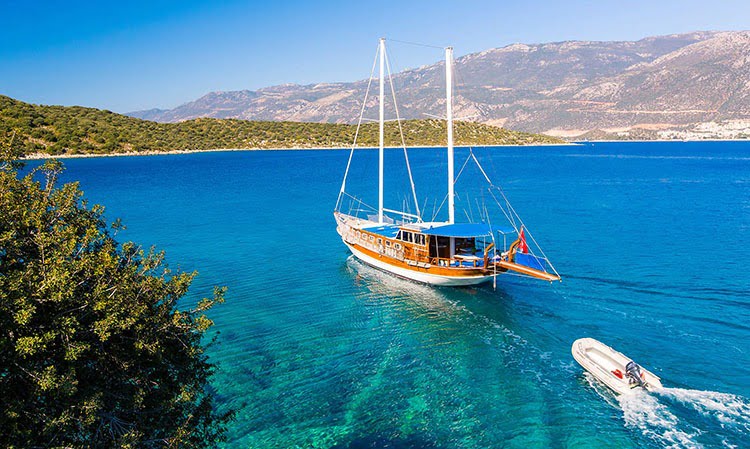 For a specific period of time commonly for a few days to a week, a cabin can be hired on a gullet yacht (single or double) with her crew. Yacht cabin charters fare also known shared yacht cabin charters in Turkey. These charters are customized for spending a holiday with accompanying people to have new and memorable experiences with new friends. Voyagers that participating in such Blue Cruises are usually multi-national, which makes these affairs become more interesting and special.
We operate the gullet cabin charters with guaranteed departures mostly on Saturday and Sunday. Friday and Monday's departures are available in the high season; June, July, and August. Cabin charters are organized by traditional standard gulet yachts in standard classes also superior class yachts(with A/C) are available at Greek Islands programs. These are crewed motor sailing yachts ranging from 19 m to 27 mt. with the capacities of 6 to 8 double cabins.
Gulet yachts have an accommodation capacity from 12 to 20 guests. They are also equipped with navigation and equipment and have the necessary equipment to meet the standard security and safety requirements. Cruises are usually gathering way on the engine to keep up with the itinerary of the Blue Cruise.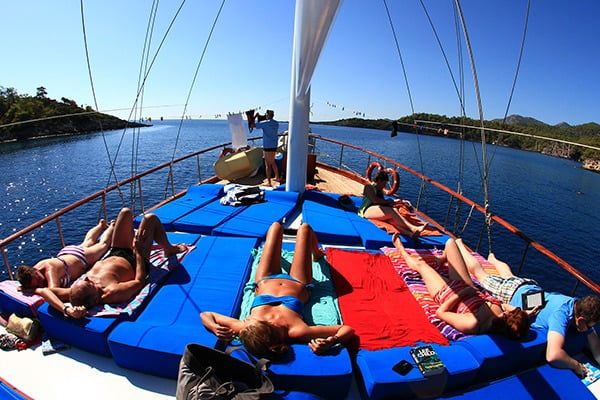 Yacht Cabin Charter Durations, Destinations and Routes
The gulet cabin charter period is standard and fixed for a week. However, shorter charter periods, such as for 3 or 4 nights (Mini Blue Cruise) could be available on certain routes on binding schedules. We have 11 different and enjoyable cabin charter blue cruise routes that are run around along the Mediterranean coast of Turkey and the Greek Islands. For those who want to spend their holidays around the attractive destinations get the opportunities to see the best bays of Bodrum, Fethiye, Marmaris, Gocek Islands, English Harbor, Datca, Dalyan and more…
Yacht Cabin Charter Inclusives
Gullet yacht charter is a provisioned charter. The accommodation on gullet yacht is full board, (breakfast, lunch and dinner inclusive, five o'clock tea) Fuel, harbor dues, transit log fees, crew, facilities on board and local taxes are included in cabin charter prices. Alcoholic and non-alcoholic beverages can be purchased from the yacht bars, are excluded.
Are you looking for an economical gulet cruise? See our available cabin charter itineraries out of Bodrum, Marmaris, and Antalya.

Send a request to take your place!
Browse Cruises Cabin Charter Request
Have a look at our private yacht charter options to the charter entire yacht for your party or for special honeymoon holidays. You may also look at our available yachts at the gulet yacht fleet page for an exclusive private yacht cruise.