If you are going on a private gulet cruise in Turkey, you will be treated to a delicious menu filled with traditional Turkish meals and here is how you can plan your meals on the private gulet cruise. Depending on the cruise you go on, you will be served three meals per day and most of the meals are traditional Turkish ones. For breakfast you would get slices of white or black bread, fresh tomatoes, cucumbers, fruits and olives, jam, egg, kind of cheese, along with Turkish tea or coffee. For lunch you may eat salads, spaghetti, rice and a few vegetable dishes while for dinner you would eat meat or fish dishes.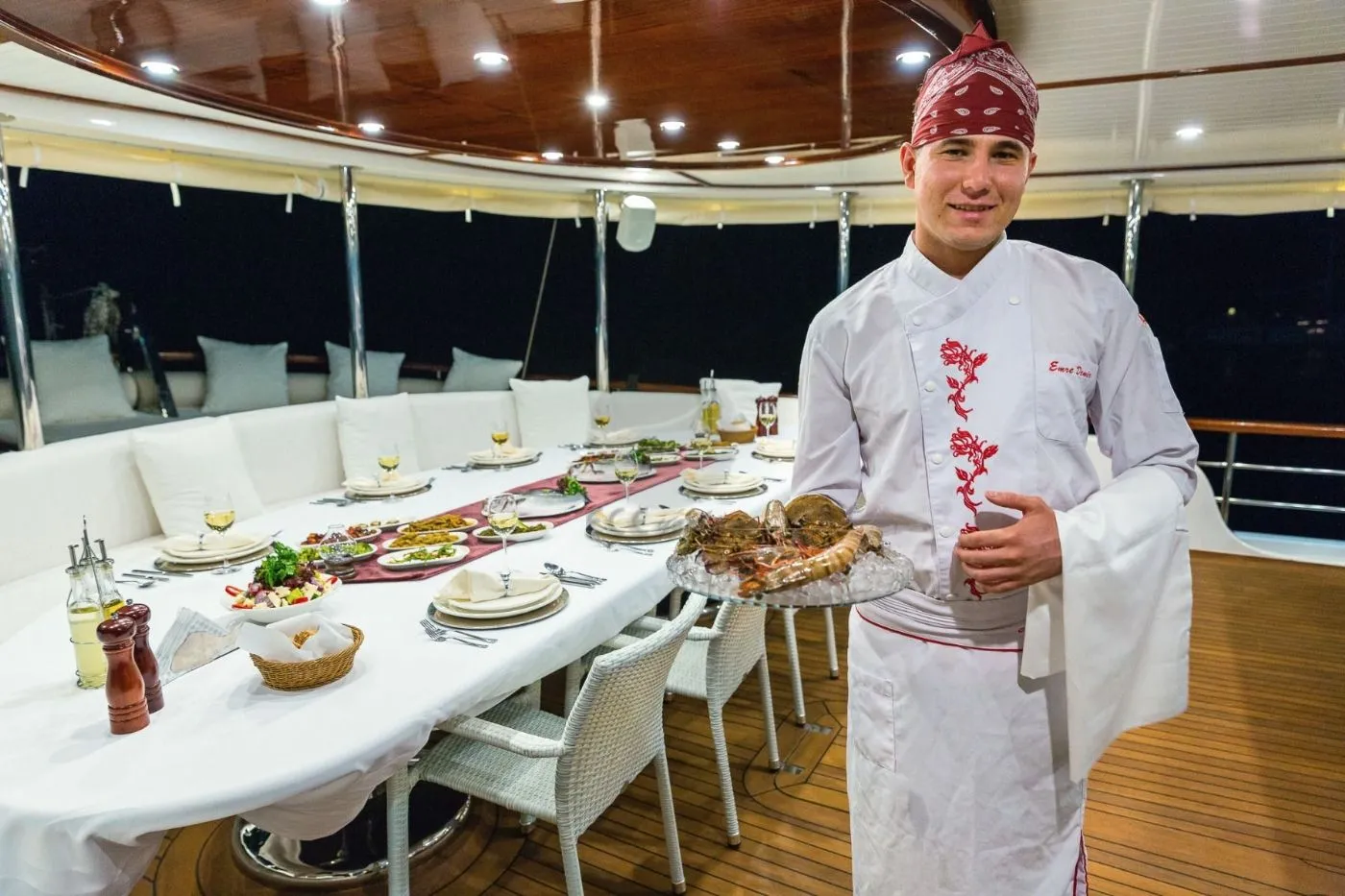 Culinary Private Gulet Cruises
For those who are gastronomes, you can plan a culinary private gulet cruise with a gulet charter company that offers this. You want them to prepare that are offered on the culinary private gulet cruise and you get to enjoy delicious Turkish food. If you are a vegetarian, you can plan to have only vegetarian meals which include fresh vegetarian purchased at the first day of the cruise and provided enroute as well. Another important thing for the meal plan is drink and beverages. Some of items such as still water, Turkish tea and coffee, filter coffe, and kind of herbal tea are already provided onboard. Except these items you can buy your drinks, alcoholic-nonalcholic or soft drinks. Or you may order your drink list to company which is able to prepare them beforehand.
Accommodations for Kids
If you are bringing kids with you on the gulet cruise and concerned about what you can feed them, the staff on the cruise can meet with you to discuss food options for the kids and most private gulet cruises have specialty menus that are designed for them to eat. Most of the foods on the menu would be meals that even kids like although this varies by cruise.
Personalized Menu
One of the benefits of chartering a gulet yacht is that you get to personalize your menu however you want. When you book the cruise, you want to discuss the kind of menu you are thinking about having on the cruise based on the food choices that are available from the gulet charter company. The staff is very accommodating and can develop a unique meal schedule for you.
Specific Dishes on Private Gulet Cruise
Here is information on the kinds of foods you would eat when planning meals on a private gulet cruise. For meat dishes, you would eat red meat, meatballs simmered in spices, chicken dishes and seafood dishes. You will also receive a variety of desserts such as Turkish desserts, candied almonds, cakes made with semolina flour, and the most popoular one baklava.
Conclusion
When you plan meals on the private gulet cruise while booking the cruise, there will be no surprises when you get ready to eat while on the cruise! Before you book the cruise, it would be a good idea to research Turkish foods so you will find out which foods are the best when you decide to choose what to eat when booking the cruise. Do not be afraid to ask questions about the foods that will be served on the gulet cruise.
Finally, enjoy the delicious food that is available and take pictures to share on Instagram or with friends back home.