As the sun begins to set on another year, it's time to start planning your dream summer getaway for 2024. And what better way to explore the pristine waters and picturesque coastlines than aboard a luxurious gulet? We're thrilled to announce our early booking discounts, offering you the chance to save up to 10% on gulet charters for the upcoming summer season.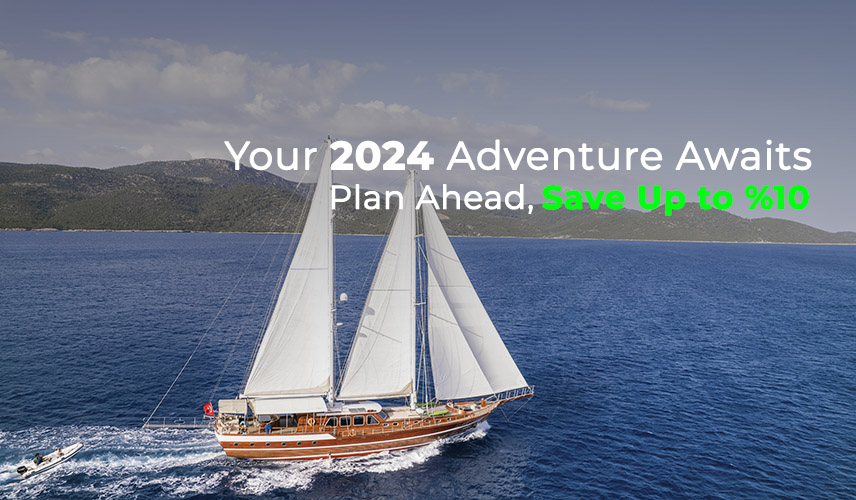 Why Choose a Gulet Charter?
Gulets are the epitome of elegance and comfort on the seas. With spacious decks, cozy cabins, and a professional crew at your service, you can experience the ultimate in relaxation and adventure. Whether you're a group of friends seeking a memorable escape or a family looking for quality time together, a gulet charter is the perfect choice.
Benefits of Gulet Early Booking:
Savings: Lock in your 2024 summer adventure at a fraction of the cost with discounts of up to 10%.
Choice: Get the first pick of the most desirable gulets and itineraries for your preferred dates.
Peace of Mind: Secure your vacation early, giving you ample time to plan and prepare for an unforgettable journey.
Don't let this opportunity sail away. Book your gulet charter today and start counting down the days to a summer filled with sun, sea, and serenity. Your dream adventure awaits, and the savings are just a click away!
This discount is valid until December 31, 2023, and for a minimum 1-week private gulet yacht charter in the high-season running through Turkish Coasts. Cruises end where the departure is being held.