Marmaris,Turkey can be one of the best choices for a blue cruise vacation in Turkey. If going to the Turkish Riviera, with its blue waters, white sands, and ample entertainment options is what you want to do – Marmaris can provide you with the ideal hybrid of the best of both worlds. It is both old and new, and both live respectfully next to each other.
Marmaris City guide
Marmaris is split into two sections, old town and new town. Old town features the narrowed cobbled street common to this area of the world, with rising plaster covered buildings. The colors displayed in old town, the cafes and the open air markets can really give you a feel of what Marmaris was like. In the new town you will encounter everything you would expect from a major city along the Turkish Riviera. There are modern restaurants, shops and clubs all there to provide you with the best food and entertainment you can find. One difference with Marmaris is the modern side of entertainment isn't taken to such extremes as can happen in other cities. No matter how modern things get, there is still a feel of history to everything.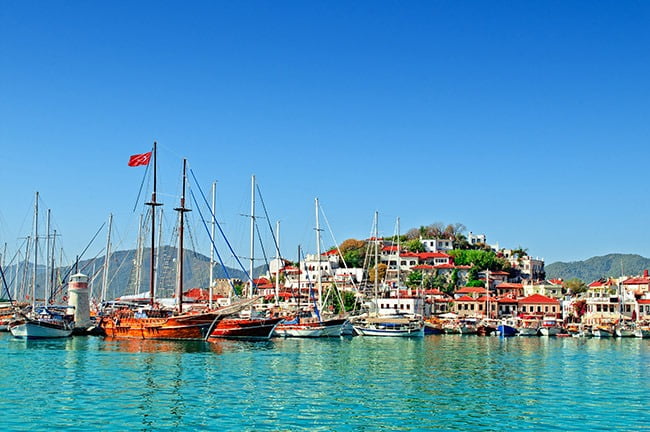 Gulet cruises out of Marmaris
There are several Gulet cruises by cabin charters that you can take out of Marmaris.The popular and cheper one is 7 nights Marmaris-Fethiye-Marmaris gulet cruise. If your choice is private charter, Marmaris is a pioneer city with its private gulet yachts. It is an ideal port to begin a Spring sea tour of the surrounding islands. There are also cultural tours that will take you to the various islands to see the artifacts left by all the cultures that have called the Aegean home. Diving, sailing, fishing and more are all available from the decks of your Gulet. Many of the ships also go from port to port and bring entertainers on board for a private dinner show too.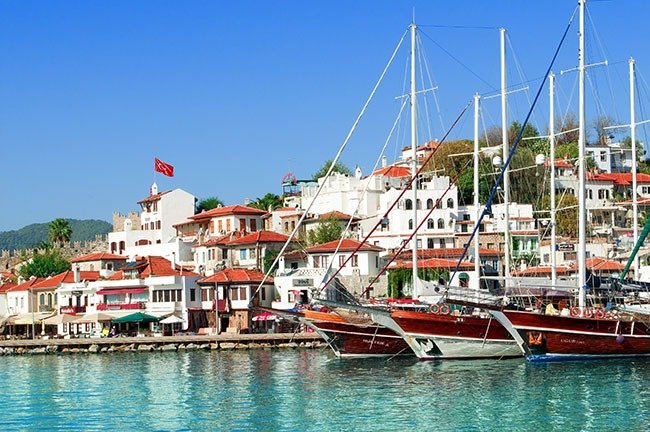 Docke gulets in the port, Marmaris
Highlights of the city
While there are a lot of new and trendy restaurants and clubs you should explore, you should make sure you see some of the highlights of Marmaris. These include the port itself. In the early morning and early evening the shipping Gulets return and it is a sight to see. You should also take a tour of the Byzantium chapels, churches and Minarets that are scattered throughout old town too. Venture out inland and you will discover plenty of hiking and biking opportunities as well.
What does the city offer to travelers?
Marmaris is a very modern city. While the ports are still active you will find them most active with the types of activities you will love doing. While there is much to do in the city, there are also diving and fishing charters you can take for the day to experience the waters before returning to the land for the evening. It is in the evening that Marmaris shines. It is considered to be one of the hottest nightspots in all of Turkey. You will find elegant dining, rave clubs, and dance clubs or bars every step of the way. If you want to take all that in, but not stay in the busy night life, consider staying aboard a Gulet for privacy.