Turkish cuisine is of the best cuisines of the Mediterranean and when you charter a private gulet, you will a chance to enjoy the favorable foods. In the eastern part of Turkey, you will find dishes such as kind of soups, a dish of hot meatballs with mixed herbs and mezes. Turkish cuisine also consists of stuffed pastries and breads, kebabs, seafood dishes, healthy vegetable salads and meat entrees. Here is what you can expect to eat when you hang out on the gulet cruise.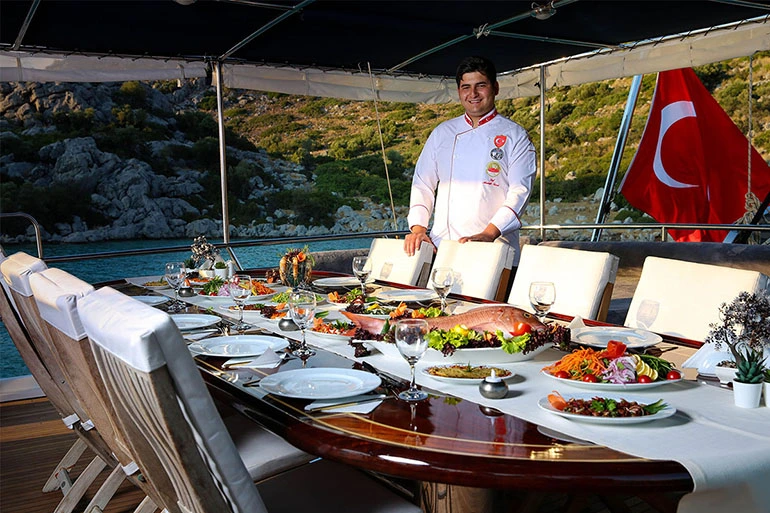 Definition of Certain Turkish Cuisine
Kind of Kebabs are popular in Turkish cuisine, and they're made by cooking chicken or meat cutlets and placing them on skewers with vegetables or even fruits. Eggplant salad; is a delicious and healthy meal with a strong Mediterranean flavor. This eggplant salad includes lemon juice, olive oil, garlic, yogurt, tomatoes and bell peppers. The ingredients for this salad come from the area so this is what makes the food even more exciting to eat. Cucumber and yogurt dip is also delicious and is served with many salads, mezes, breads and meats in Turkey.
Turkish cuisine has European and Asian influences and is healthy for you. The fresh vegetables and fruits along with the yogurt make a good Mediterranean meal and the lamb dishes are also rich and delicious. When you savor Turkish cuisine, you are enjoying the various culinary influences of Turkey and each cruise has its own type of menu.
The good thing about Turkish cuisine during the gulet charter holiday is that you taste both European and Middle Eastern influences, and this is because the country is a blend of those cultures due to geography and religious influences. You may also be inspired to fix traditional Turkish dishes when you return home. It is a good idea to post photos on social media so for those who are considering a gulet charter will see all of the good food provided on the cruise. If you are on land and out shopping, you can try some of the traditional street food from the carts that are around.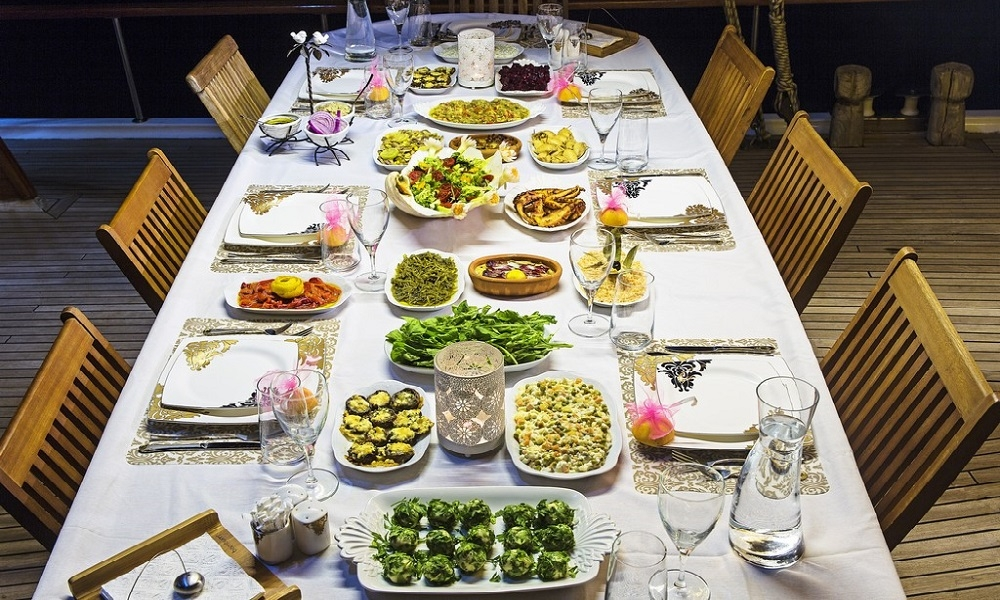 Sample Breakfast on Board- To Boost Your Energy
Breakfast, which is usually served at the place where the boat stays overnight, is a pleasant moment to come together with your family or friends, as with other meals onboard. Here is what you would get regarding the food on board as it relates to breakfast. Generally, the breakfast would be light and consist of sausage, salami, assorted cheeses, olives, honey, marmalades, omelets, butter and olive oil as condiments, fresh fruits, Turkish black tea, coffee, cucumbers and tomatoes with fresh greens. This is the standard Mediterranean breakfast and it contains healthy foods that will give you the energy to get started on the day.
Sample Lunch – Healthy and Light
The lunch mainly consists of vegetable dishes and salads that will offer you a variety of meals. Beans, peas, cauliflower, and broccoli are just some of them. Some dishes you may eat are baked chicken with vegetables, white rice, sautéed green beans and fruits. You may also eat spaghetti Bolognese, meatballs with rice and tomatoes, stuffed pastries, peppers with yogurt sauce, tuna salad, pinto beans, İmam Bayıldı (epplant tomato onion cooked in olive oil), caciki, assorted fruits and an array of desserts along with Turkish coffee.
Sample Dinner – Dishes to Dive Into
The dinner portion of the gulet charter continues with more traditional cuisine. The dishes you may find include a kind of meat, vegetables, grilled fish with lemon juice, Chicken shish kebab, red beans with tomato sauce, grilled bass and beam with sauce, Oven cooked potatoes with ground meat, white rice or bulgur wheat. mixed salad and curry chicken with peas and carrots and kind of fresh fruit, Turkish delight and coffee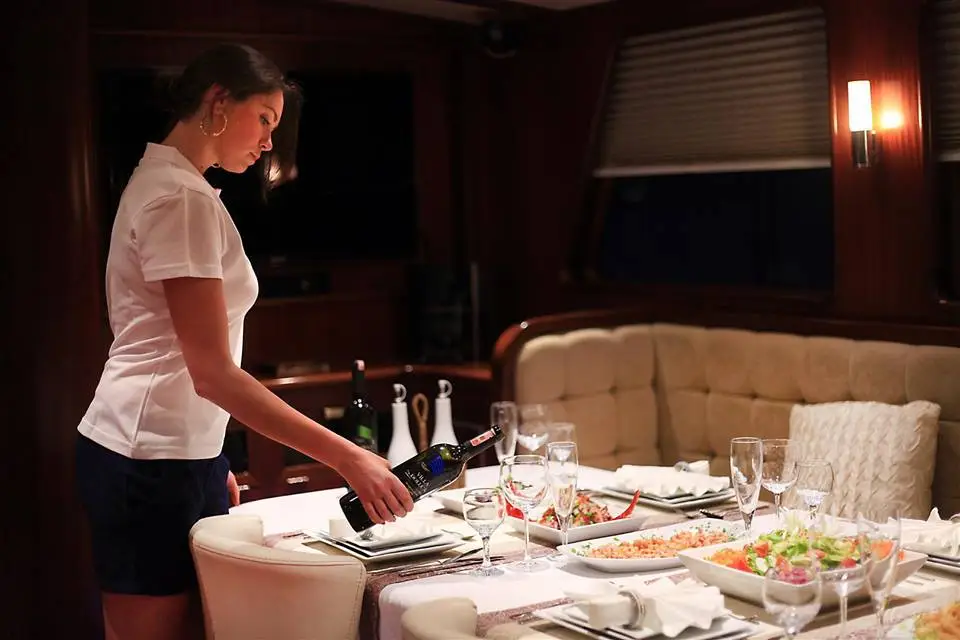 Famous Turkish Dessert Baklava
Baklava is a delicious dessert that is essentially a pastry filled with honey, nuts or almond. The pastry for this dessert is flaky and it is also buttery and light. Don't forget to ask your agency for providing during the cruise.
Types of Menus Vary By Gulet Charter
It should not be forgotten that the presentations of the chefs on the boats, as well as fish, vegetables and other seasonal foods may vary depending on the menu type selected during the charter. Many gulets yachts offer the standard menu which may consist of chicken, pasta, fish dish, and assorted vegetables. A deluxe menu would consist of more fish meals enriched with seafood and meat dishes, an array of vegetables and fruits. When you choose the gulet cruises, request about the menus that are featured and which dishes will be included on those menus. During your charter holiday, you can choose the most suitable menu for your group among the menus; Economic, Standard, Deluxe or Seafood menu. You may even want to modify these menus within themselves and you can make specific requests.