The Eastern Mediterranean coast of Turkey, also known as the Turkish Riviera or Turquoise Coast, is a prime destination for those looking to charter a yacht and explore the local waters. The region is known for its clear waters, ancient cities, and charming nature, making it the perfect spot for a luxury yacht charter vacation. The turquoise waters of the Mediterranean, the historic sites and the local culture, all make it a great sailing destination.
One of the best ways to experience the Turkish coast is through a luxury yacht charter, also known as a gulet charter. Gulets are traditional wooden boats that have been used for centuries by the local fishermen. These traditional wooden boats have been converted into modern, luxurious vessels that come fully equipped with all the amenities you need for a comfortable and enjoyable vacation. They are also known for their intricate woodwork and traditional design, giving you a sense of the local culture and history.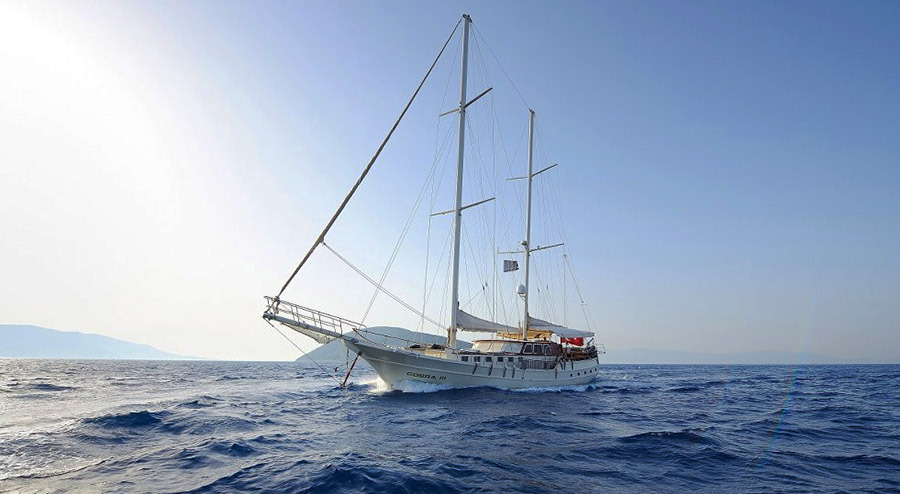 Sail in Style with Crewed Luxury Gulet Yachts
The luxury gulets are typically large and spacious, with plenty of cabin for a group of friends or family. You can tailor your itinerary to suit your interests, whether it's exploring ancient cities, swimming and sunbathing on the seashore, or trying out water sports like water-skiing or snorkeling. The gulets are usually equipped with a range of water sports equipment such as kayaks, paddleboards, wakeboards, and snorkeling gear for you to use during your stay. You can explore the underwater world, with the possibility of spotting a variety of fish, sea turtles, and even dolphins
The waters of the Eastern Mediterranean are known for their clear visibility and rich marine life, making them a perfect spot for swimming and snorkeling.
These yachts offer guests the ultimate in comfort and style, with modern amenities. Whether you're looking for a romantic getaway, a family vacation, or a corporate retreat, a luxury yacht charter in Turkey is a perfect choice. These yachts are usually captained by experienced sailors, and they come with a crew that takes care of everything, from navigation and maintenance to meal preparation and cleaning. The attentive crew is there to take care of all the practical aspects of your vacation, leaving you free to relax and enjoy your time on board.
When it comes to dining, Turkey is a culinary paradise. Luxury yacht charter guests can enjoy delicious Turkish cuisine. Yachts have professional chefs on board who can prepare meals to suit your preferences.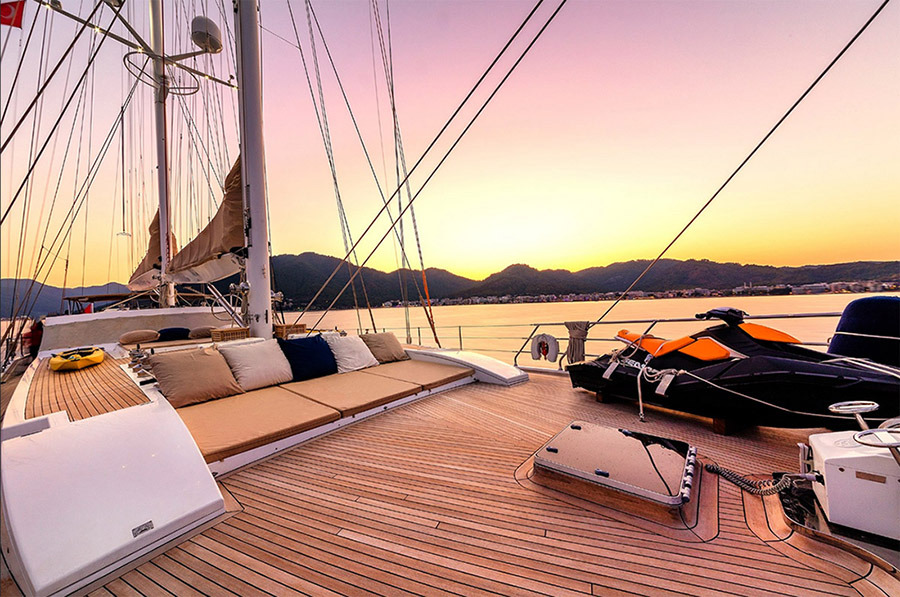 Chartering a Gulet: Expect Luxurious Accommodations and Entertainment Options
When chartering a gulet, you can expect to find a variety of accommodation options, from cozy cabins to spacious suites with en-suite bathrooms. Many of the luxury charter yachts are equipped with unlimited usage of air conditioning, providing you with all the comforts of home while you're out on the water. You can also expect to find plenty of entertainment options on board, such as water toys, TVs and sound systems, as well as comfortable seating areas for relaxing and socializing.
The cabins are usually equipped with comfortable beds, private bathrooms, and plenty of storage space. Luxury yachts offer large living areas, providing you with plenty of space to relax and socialize.
Timing is Key: Choosing the Best Season for Chartering a Yacht in Turkey
When planning your charter vacation, it's essential to consider the time of year you'll be visiting. The summer months of June to September are the best time to charter a yacht in Turkey, as the weather is warm and sunny. However, the crowds can be larger during this time, and the prices may be higher. If you're looking to avoid the crowds and save money, consider chartering a yacht in the low seasons of May or October.
In conclusion, Turkey's Eastern Mediterranean coast is a beautiful and diverse sailing destination that offers plenty of opportunities for adventure and relaxation. From ancient cities and local restaurants to water sports, there's something for everyone on the Turkish Riviera.
You're sure to have an unforgettable experience exploring the Turquoise Coast. With so much to see and do, it's no wonder that Turkey is one of the world's top sailing destinations. Don't miss the chance to sail along the ancient coast and explore the hidden gems of the Eastern Mediterranean.