There are a lot of options for your meal plan when you take gulet cruises. You can have all of your meals on board, or just a few. However, it is recommended to have your all meals onboard. There is going to be pretty restaurants enroute you may want to take break for your suppers. While you may not be able to handpick the entire menu, gulet trips will work to accommodate different dietary needs and preferences for you and your charter guests. Giving a notice to gulet charter company on the booking process, will make your meal preparations as you request.
Staying local may be the best
Don't look for fried chicken and burgers in Turkey, but you should look for open air grilling as a possibility for your menu options. Grilling meats is very popular in this area. The more you can stay within the traditional foods and cooking methods, the better experience you will have. This can change if boat offers special culinary options.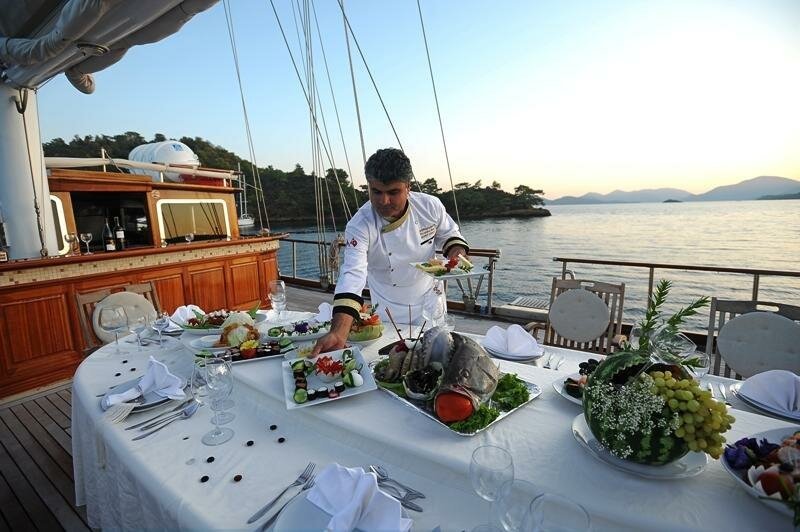 Look to what the charter has to offer
While almost all of the gulet yachts offer meal plans, some of them offer quite a bit more. In the same way that charter gulets can accommodate different diets, they can also accommodate different tastes too. Some even plan special in cruises around chef availability. You can find out by asking if the charter company offers any special meal cruises. Many of them will time their menus to reflect the seasons of the local foods and the fish that can be serviced. Don't just check off a meal plan, ask what the options are. Private gulet trips are often flexible because they are dealing with a small amount of guests. If all of the guests are amenable to an idea, you would be surprised what can be done.
Gulet Voyage Yachting offers standard menu and deluxe menu. Except these menus, you can take special meals like fish menus that include just fish foods enriched by crustaceans or like vegetarian menus including fresh vegetables cooked with famous Turkish olive oil and fresh fruits. Whole day, hot drinks are available.Another important thing is alcoholic or nonalcoholic drinks can be added your menu beforehand. Alternatively, guests can do shopping from a local market by the time of arrival. Stuff is going to be delivered to your boat.