Gulet, – also known as gullet – is a traditional Turkish wooden motor sailing yacht which has been followed from Caria Epoch. Bodrum is the place of birth of gulets. Different sizes gulets from 14 mt.up to 40mt. are generally built by a few craftsmen in international standards since ages in South West of Turkey shipyards and building descend from father to son.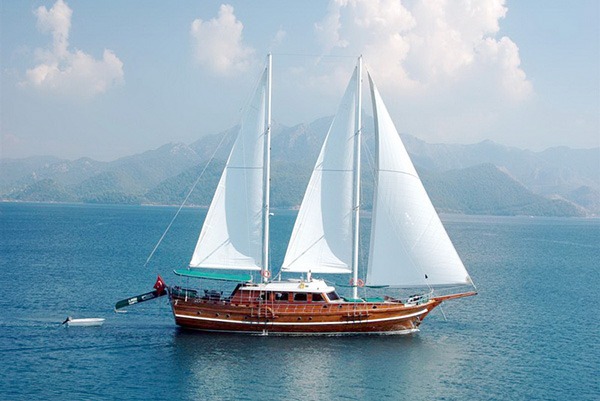 Traditional Turkish Gulets
At the present day, Gulets which is preferred for an ideal blue cruise vessel are formerly used for the purpose of shipping and fishery. By reason of seaworthiness, spacious interior decoration, gulets have become a popular yacht type all over the world.,
Gulets which are built after a careful and at least one year continued hard working, are completely handicraft. Pine, mahogany and chestnut are the materials that are used in gulet buildings.
Gulets mostly configured as motor-sailers and their sails provide secondary power while the wind is good for sailing. Gulets have wide and high cabins with personal wc and shower. Foredeck of gulets has wide area for sunbathe. Afterdeck is generally used for meal. Gulets are adequate to dock and anchor shallow waters. So, voyagers have a chance to swim in the serene seas and land to the little islands. Water sports are available in gulets. Equipments are used unlimited during the cruises. Gulets are categorized as standard, luxury and deluxe. All gulets have safety equipment
You will feel like yourself at a luxury hotel in your cabins.Select a beautiful gulet yacht to charter in our private gulet yacht fleet according to your budget in variety option.