One of the best things about Turkish gulet yachts and a Turkey gulet cruise is the Turkish cuisine on yacht and the various fun activities on the gulet yachts. In the eastern part of Turkey, you will find mainly foods such as yogurt, cheese dishes, honey, meats and dishes that are filled with nuts. Turkish coffee is also a popular drink in all of Turkey. In central Turkey you will find a lot of wheat-based dishes and in the western part of Turkey you will see a lot of fish dishes. Kebabs are popular in the southern area of Turkey.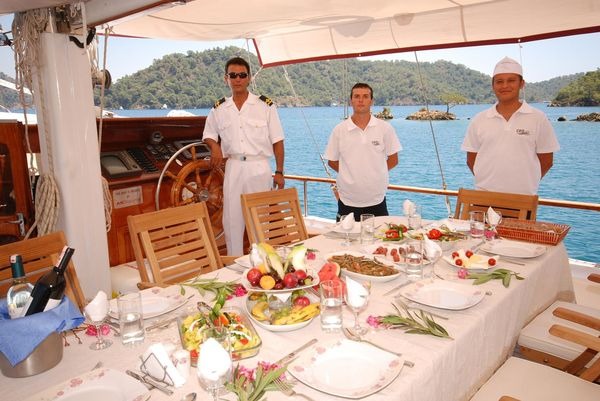 Sample of What You Would Eat on Gulet Cruise
During your gulet cruise, for breakfast, you would eat an assortment of fruits and breads along with a variety of breads or pastries. The breads would be served with honey, cheese or eggs. You may also get vegetables such as cucumbers and tomatoes. Coffee is usually served with this meal and you can also have juice. The lunch menu would consist of foods such as baked chicken with vegetables, sautéed green beans in olive oil, white rice pilaf with almonds, bulgur rice with tomatoes and a choice of salads. For dinner you would eat ratatouille, vegetable soup, Aegean fish and an array of local desserts such as Turkish delight, a chewy candy.
What It Is Like on The Gulet Cruise
Here is life on board when you are on a gulet cruise in Turkey. When you first arrive to the docking area, the captain and crew welcome you to the cabins and after this you would unload your things and place them in the cabins. The cabins have fresh linen sheets for the bed. Once this occurs your gullet captain will have a meeting with you and then you will eat Turkish cuisine on board. Each day on the cruise will include a few hours of sightseeing on the Mediterranean Sea and depending on the cruise, you will be able to go swimming, fishing or snorkeling.
When you go on a gulet cruise in Turkey, life on board is exciting as you tour Turkey's most ancient sites and most modern cities such as Istanbul. Talk to fellow gullet cruise members because you may establish new friendships. Also do not be afraid to savor the Turkish cuisine on board because the purpose is to learn and savor as much of Turkish culture as possible. Finally, ask more questions about the places along the Turkish Riviera you will visit.