If you want to enjoy a different kind of vacation, you should book a Turkish gulet cruise because you get to spend magical seven nights on a wooden gulet that is beautifully handcrafted and has been a part of Turkish culture for centuries. On a Turkish gulet cruise you will have a crew on board and you will also receive breakfast, lunch and dinner, which all consist of Turkish cuisine. You can go swimming in the Mediterranean Sea's crystal blue waters and engage in other water-based activities such as snorkeling, water-skiing, canoeing, fishing. The peak of tourism in Turkey is between June and September and if you want to go on a Turkish gulet cruise, this is the best time to go. Among the Turkish gulet cruise reviews, we see that the best time is September. Cause the weather is mild and calm and you do not need a air conditioned gulet that is one of the most effected the charter price. The Turkish gulet cruise also offers a chance to check out Turkey's historic sites in areas such as Fethiye, Marmaris and Bodrum, some of the most popular stopping points on gulet cruises. You may specialized your cruise as a historical cruise by visiting the historical areas, arranging land excursions or a just relaxing and swimming.It's totally up to you to organize the cruise with your gulet charter agency.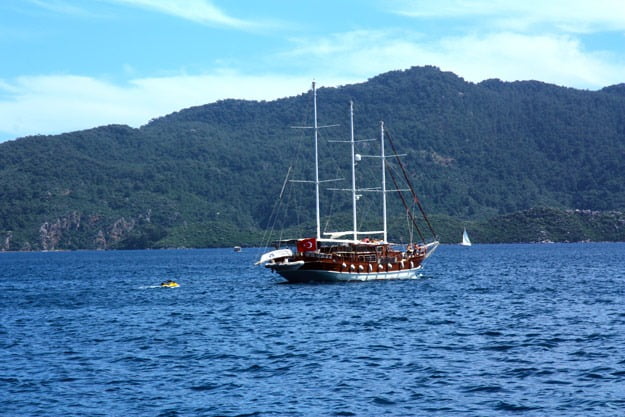 What to Expect on the Turkish Gulet Cruise
The average Turkish gulet cruise lasts seven nights and you will be served breakfast, lunch and dinner. Also 5 o'clock tea is served with some delicious pastries and cakes. You will also get a chance to stop at historic sites throughout Turkey in between your time on the gulet. For example, you can visit Dalyan Caunos area since it is important in Turkish history and culture. If the Turkish gulet cruise stops in Antalya, you may visit the Hadrian arch because it is tall, has a huge clock tower and it dates back to the Hellenistic era. The Antalya Kaleci area of this region has an Old Wotld charm to it but it also has a modern touch with nice shops and restaurants. Antalya has a few underwater diving sites that you will enjoy while on the Turkish gulet cruise.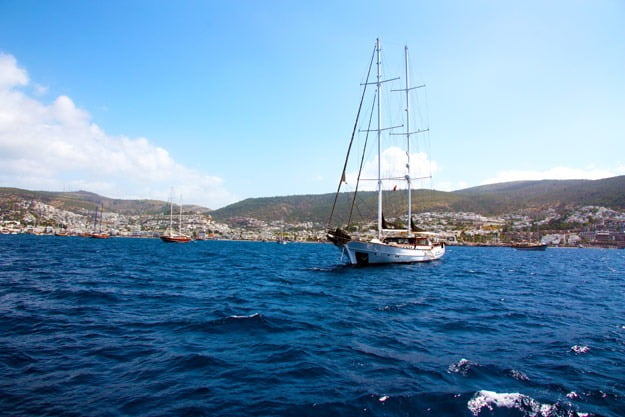 Anchore in Fethiye and Gocek Islands
Most Turkish gulet cruises make a stop in Fethiye and around beautiful Gocek ıslands.Here is what to expect when you visit the city. This is a seaside city set along a harbor and you can sail on the Aegean Sea while in Fethiye and you can stop at the city's numerous shops and restaurants. Those who love the nightlife will enjoy Fethiye because it has several nightclubs around. The adventure seekers should check out the following nature sites in Fethiye; the Yassica Islands, King Rock tombs, and ancient amphitheaters and temples made of huge columns.
Conclusion
Turkish gulet cruises are a great way to enjoy your summer because most of these cruises are becoming affordable to purchase and some gulet charter agencies let you create your own itineraries while on the gulet cruise. Practice safety while on the gulet and always treat fellow guests with respect. As you stop at various cities in Turkey, get to know the natives because they can teach you a lot about Turkish history and culture that some of the tour guides may be able to tell you. Before you go on the Turkish gulet cruise you can learn about common Turkish words and phrases because although the Turkish residents understand English, it is respectful to know a little Turkish when interacting with them.