Charter yachts in Turkey (Turkish gulets) offer more than you expect…Here is what is waiting for you.When you arrive on the charter yacht with your friends or families, you will be able to sleep in a comfortable and air conditioned cabins that have a flat screen TV, Wi Fi and a pool table for guests to enjoy. Almost every gulet yacht has fishing and snorkeling equipment, you can bring your own equipment. Captains will take you to the spots for finding the plenty of fish. You can also have with water toys such as water-ski, towable toys like ringo, canoe while on the charter yacht. Some charter yachts mostly the ones in high-deluxe class have Jacuzzis on front deck so you can relax in a bath-like setting while looking out at the Aegean and Mediterranean seas.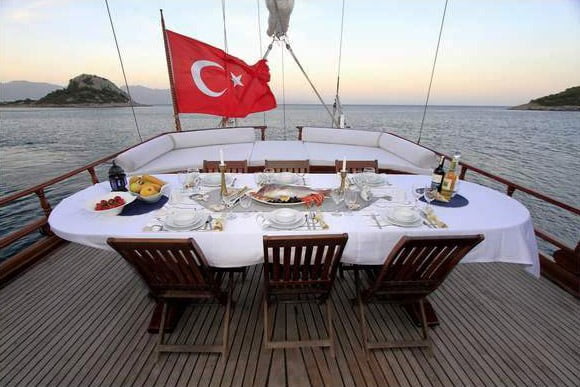 Taste Turkish Cuisine Onboard
While you sail on the charter yacht, you will also experience different kinds of Turkish meals on board that are delightful. Some foods you would eat include Turkish coffee, Turkish rice, assorted vegetables and fruits, selection of cheeses, beef and chicken dishes, variety of Turkish desserts and salads. Meal plan is very important part of blue cruises in Turkey. As a nature of cruise, all meals are always served onboard. Alternatively, Half Board meal plan can be base and gusts can have their meals on shore. Restaurants are rarely located along the blue cruise area. Because of that Planning Full Board meals is commonly suggested.
Route to Ancient Cities With Charter Yachts
One destination you may visit while on the charter yacht is the Antalya region of Turkey. The ancient city of Olympus is located in this region and you will see beautiful oleander and laurel trees there. Olympus is also said to have been the site of the mythological character Belleprophon who rode on a winged horse called Pegasus that killed a monster called Chimera. The ancient city of Olympus is also known for being the location of Alexander the Great's winter resort. A blue cruise trip from Gocek or Fethiye thru Kas, Kalkan and Kekova is an ideal cruise itinerary to see the region.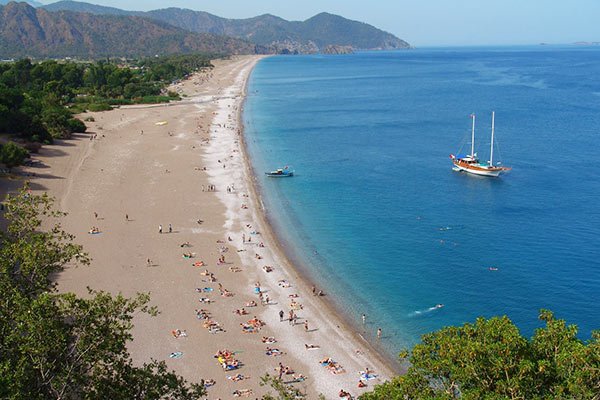 Other Interesting Places to Visit In Turkish Coasts
Here are other entertaining destinations you may visit on charter yachts in Turkey. Kalkan is a village that has a beautiful harbour with crystal blue waters that are ideal for scuba diving or snorkeling. There are neat shops and restaurants that you can check out and there are also white sandy patches to enjoy. The village of Kas has hillsides all around it and you can buy goodies at some of the markets there. Kaş also a paragliding center, an alternative to Fethiye in Southwest of Turkey. Guests can diversify their blue voyage by paragliding in Kas.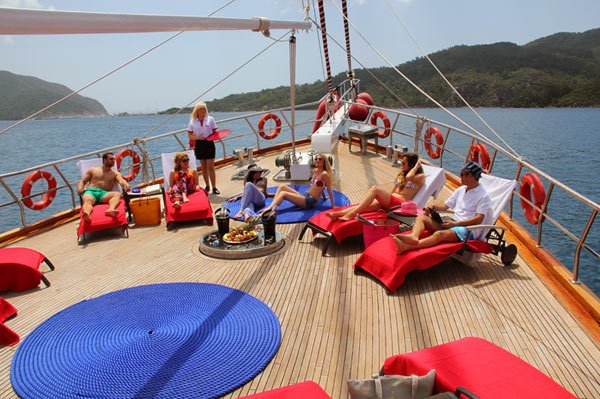 Stops in Marmaris
Another destination you may visit while on Turkish gulet boat is Marmaris. The Blue Cave is an important body of water in Marmaris and according to folklore; it was the place where Cleopatra took baths at times. There is also the town of Turunc where you will see high mountains and nice rivers. This is a good way to get in some peace and quiet after so many hours on the yacht and at other destinations.Marmaris is a pioneer for Turkish gulet trips as well as for cruise ships.City has become one of the stops for cruise ships come from different regions.
Conclusion
Charter yachts in Turkey are great for vacationers who want to do something different besides staying in a hotel during the summer and fall months. You want to book your charter yacht before the new year or winter months so you can take advantage of good bargains and so that you will get a cabin before most of the other vacationers. Get your passport before going on your vacation and be sure to bring your medicines, extra cash and other medical documents with you on the gulet trip. Finally, you want to enjoy yourself on the trip and take plenty of pictures.