The idea of booking onto one of the gulet sailing holidays in Turkey sounds ideal for different holiday. You get to cruise the Mediterranean coasts of Turkey and some islands of Greece (Dodecanese Islands), explore cities and islands – all from a traditional sailing yacht with a full crew at your service. Most people then sigh and assume these types of holidays are far above their means. You will be surprised to find out that they are not. There are a variety of different gulet sailing holidays in Turkey that can fit anyone's budget. To pick the right one for you, you have to understand what choices are available; there are more factors to consider than you might be aware of.
Cabin Charter or Private Charter – Which type of charter is reasonable?
Gulet sailing holidays start by being defined by the size and category of the boat you are in. There are private charter options, or you can do a cabin charter where you will be onboard with other travelers. In the end, both are reasonable options because what will influence their cost varies. You can go full out for a private yacht charter with a full crew, itinerary and meals and as well as sport activities – which is on the higher end of the price scale – but if you only do it for a week or more during the low-season (April, May, October), the price begins to come down. Check the prices of gulet yachts for charter
Cabin Charters can range from the inexpensive to expensive as well depending on the class of boat, and cruise program. Here are the cabin charter prices.
Knowing how long you can go
Many of the gulet sailing holidays in Turkey have a minimum time of one week at cruise. There are some that will do short forays for a weekend or long weekend mostly during the low-season but those tend to be more expensive than a week. The whole week price is required in case of boarding the boat out of departure days. Departures are mostly programmed on Saturdays. One of the easiest ways to figure out the length of gulet sailing holidays in Turkey you can take is to rethink where you are travelling in to, and where you will leave from. You can use the gulet to travel between two points as one way which may be required extra one way fee or round way which is mostly preferred.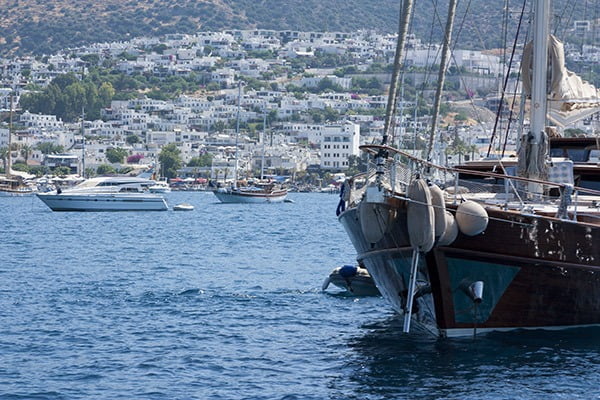 How do you book gulet sailing holidays in Turkey?
Most of the yachts especially the popular ones are booked at least 5-6 months in advance of the prime season. The closer you get to the season, the more discounts will be offered but you may also find that all of the holiday trips are sold out. It is better to plan in advance for your holiday. Gulet Voyage will send you pictures of the yacht, a copy of the itinerary and a copy of the menu before you commit.