When you go on a blue cruise Turkey, you get the opportunity to enjoy all that Turkey has to offer on a wooden gulet boat that has been a part of Turkish culture for centuries. You get to swim in the Aegean and Mediterranean seas since this is where the gulet boat sails on most blue cruises. When you go on a blue cruise Turkey, you get the opportunity to check out Turkey's historic sites such as Knidos and Caunos from ancient times. Start your planning by contacting a gulet cruise agency and then you would arrange for a blue cruise Turkey, and also compare the different itineraries that are available.
Here is some information on the places you will visit on a typical blue cruise Turkey. Bodrum is one of the main cities you will see on the gulet during a blue cruise and this city has numerous forests and bays as well as beautiful mountains and coastlines. Gokova Gulf is another blue cruise area that has seaside resorts, the most preferred itinerary out of Bodrum and Marmaris offers relaxing mud baths for guests on the blue cruise Turkey.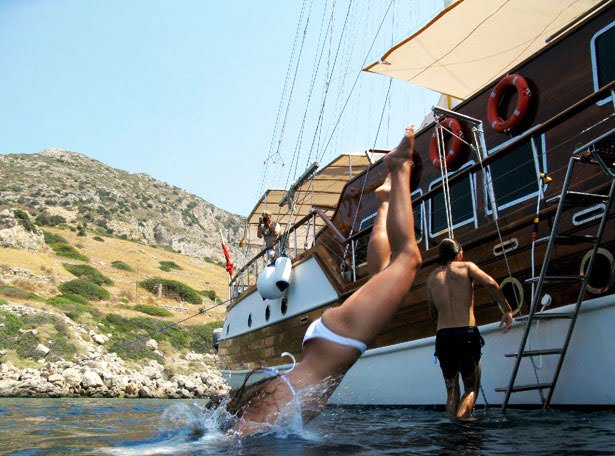 Main Attraction of Cruise: Swimming in Clear Blue Waters
One of the main activities that people go on when they are on a blue cruise trip in Turkey is swimming in the crystal blue waters of the Aegean and Mediterranean seas. Those who have been on a blue cruise Turkey said that they loved being able to enjoy the beauty of these seas with their family and friends.
Other Main Attractions to Check Out
While on a blue cruise Turkey, you can check out the historic site called Antalya and here you will see ruins called Termessos that date back to Alexander the Great's reign in Greece and other parts of the Mediterranean. There are also historic neighborhoods within Antalya that offer antique hotels bed-and-breakfasts, shops and quaint restaurants for you to visit. Kemer to Kekova is the main itinerary in this blue cruise area. If you check out the Lycian coast while on the cruise, you will be amazed by the tombs leftover from ancient times that exist there and the city of Dalyan has ancient amphitheaters while Ephesus has ancient temples from the days when pagan religions dominated the area.
Knidos
If you are on a blue cruise Turkey, you may also stop in at an ancient site called Knidos. It is here that a statue of Aphrodite resides and according to legend, this is the first representation of a nude female form. This is one of the highlights of visiting Knidos and there is also a neat lighthouse there. Knidos can be seen by joining the Bodrum – Datca – Bodrum cruise program.
Conclusion
Generally the blue cruise Turkey lasts 7 nights but there are also available 3 nights cruises called mini blue cruise. Before booking a vacation you want to compare cruise programs, prices and itineraries to determine which vacation package would be right for you. Once you book the blue cruise Turkey, you should obtain your passport and visa at least a month before you go on the blue cruise and have adequate funds on hand if you plan to shop while on the blue cruise Turkey. If you think about a different vacation, join one of the blue cruise Turkey program.