Check Out Fethiye to eat fresh Fish
When you book a gulet cruise with a Turkey gulet charter, it is highly likely that you will visit Fethiye or Gocek where is a small village of Fethiye and for good reasons. If you are going on a honeymoon, you can visit several of Fethiye's white and clear beaches for swimming and relaxing, and the Oludeniz is a crystal blue lagoon that attracts thousands of tourists on Turkish gulet each year. For adventure seekers, you can go paragliding, snorkeling and scuba diving in the waters of the Mediterranean Sea while in Fethiye. Babadag Mountain in Olu Deniz is one most destination for paragliding. Don't leave the city without having a dinner in a local fish restaurant or famous fish bazaar located in the city center.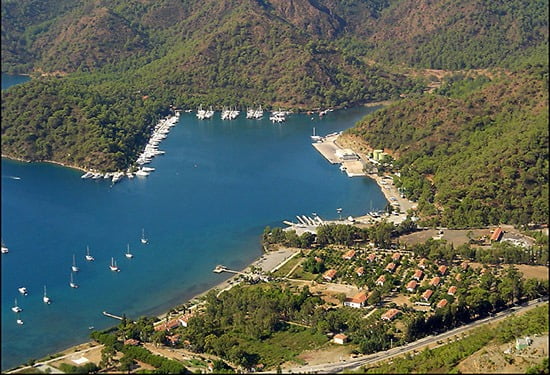 One stop in Gocek Port
This is an exciting place to visit when you are on a Gulet Charters Turkey and here is why you should check it out. Celebrities often go on for Turkey gulet charter, in Gocek and this area of Turkey is also known for its' numerous marinas and fishing villages. You will enjoy the spectacular blue green waters of Gocek and the weather there is pleasant all year round. Secluded bays between Gocek and Fethiye and the little islands very close each other should be visited enroute.Gocek port can be a stop enroute for shopping. There are many market and a bazaar alley where you can find many souvenir things.
Best of Turkey Gulet Charter: Bodrum
If you have already visited well-known destinations such as Gocek and Fethiye, you can visit Bodrum during your gulet sailing Turkey vacation. Bodrum area and itineraries is the best gulet cruise in Turkey is located north of the Turkish Riviera and it is an exciting place to visit. In Bodrum you can check out the beaches and other activities in this city include visiting historic landmarks, scuba diving, shopping, dining and fishing with the locals who live there. One of the main sights in Bodrum is the Bodrum Castle which is situated at the center of city.You can visit Museum of Underwater Archaeology that is the biggest of its kind devoted to underwater archaeology.
Istanbul After Your Turkey Gulet Charter
If you like to combine your gulet cruise with an land tour, Istanbul is the place where visiting is a must. Mostly gulet guests spend their times in Istanbul before/after the Turkey gulet cruise starts or Istanbul portion can be planned after the cruise. Istanbul is well-known city in Turkey and all over the world has antique and modern touches, and here are some of the places to see within Istanbul. You should check out the Hagia Sophia because this is one of the important cathedrals in Christian history. Inside the Hagia Sophia there is a huge decorative dome and after the Islamic conquest of it during the Byzantine era, it became a mosque for a period of time. There are also 30 million mosaic tiles that cover the inside of the cathedral. In Istanbul you will also see the Blue Mosque.
Conclusion
Going on a Turkey gulet charter is an excellent way to travel cause you are learning about Turkish history and culture, and you are enjoying everything that the Mediterranean has to offer. While on the Turkey gulet charter vacation, take plenty of pictures so you can create a scrapbook of your memories from the trip. Finally, practice safety and get to know some of the fellow travelers in order to build new friendships.