Fethiye Turkey is one of the Southern Cities located on the Turkish Riviera coastline. It is one of the major active ports along the Aegean sea, and one of the main ports of call for the Gulet cruises in the region. As a traveler, you will love the range of food especially fresh fish foods, clear beaches, entertainment, and activities that you can do will visiting Fethiye. The city combines the best of the old and new, and it has some of the best preserved traditional Turkish homes and streets in its old town area.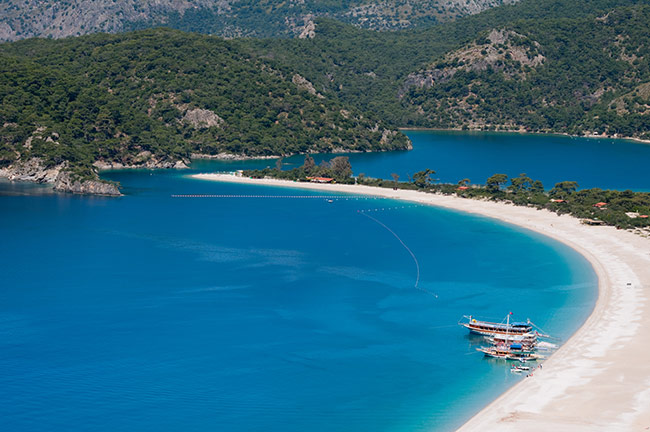 Oludeniz, Fethiye
Fethiye City guide
There are three main sections of the city and they all radiate out from the Fethiye port. The port area is active with commercial and recreational yachts. In the early morning hours a market forms on the port docks and streets that features the fresh fruits and fish brought in, but also the traditional Turkish vendors making it an ideal place to get breakfast. Step back from the port and you will find the business district, radiating out from there are the older parts of the city. You will find markets, cafes, restaurants, shops and historic buildings scattered throughout. Towards the mountains on the edge it gets more residential and agrarian. In each of the areas there are museums that cover everything from archaeological explorations to oceanic and sea-faring culture.
Gulet cruises out of Fethiye
One of the best things about Fethiye is it is the start and end point of many of the best Gulet charters around. Whether you are planning on taking a shared Gulet, private yacht, or planning on sailing your own – all boats come to Fethiye. You will find the right cruise for you, and the right stock to make sure that you have everything you need to enjoy your time exploring the islands and the sea. Gocek, where located 20 min. away from Fethiye, is an alternative departure point for gulet tours.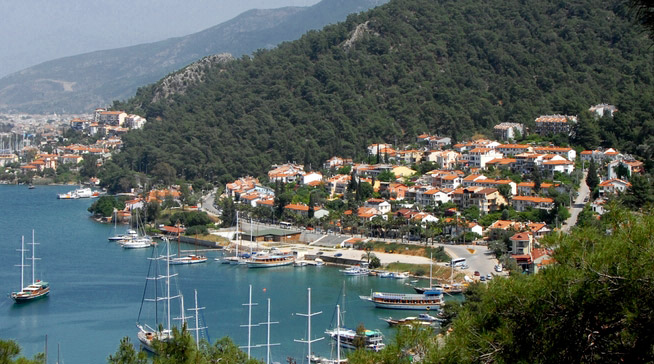 Photo: Fethiye town
Highlights of the city
What you should sure of to see in the city are the evening entertainments offered at several of the best restaurants. You will experience some of the best cuisine, followed by music and dance that explores traditional Turkish culture, and its modern versions. There are many historical sites to explore as well. One of the most interesting places to visit is the Museum of Sea-faring Culture. As different traders have come to this port city, they left behind their cultural influence on the local architecture, food and arts. The museum tracks all of this and is fascinating.
What does the city offer to travelers?
Fethiye has a lot to offer travelers. Whether your interest is in the history of the city and area, or if you are looking for more modern enjoyments, you will find a bit of everything in here. It is primarily a city of the sea, with active ports and markets; but it also has castles, shops and stores that celebrate the diverse nature of the city that comes with being a port of call. There are many excellent places to stay, restaurants to dine at, markets to shop – and you can even choose to stay aboard a native Gulet instead. Fethiye Turkey has some of the best weather, best things to see – all without the crowded feel of being a vacation hot spot.

By