Bodrum, Turkey is an ideal place for your holiday whether you are travelling solo, having a romantic gulet cruise, or taking the whole family. Getting into Bodrum is easy, and once you are there you will discover why this city is considered one of the best in the region. It perfectly blends the old and the new. From the Bodrum yacht regatta to festivals older than the country itself, there is something everyone will enjoy within its boundaries.
Bodrum City guide
The best way to approach Bodrum is to get a map and line out the different quarters. Then approach each quarter as its own city. Bodrum is so old that there are multiple layers to it. Around the port area you will find many of the newest shops and restaurants, as well as some of the clubs. As you get into the older sections of the city – history begins to come out. There are open air markets and tradesmen that come from all over Turkey to sell their wares. There are also several different museums that highlight the changing times within Bodrum. While the city itself is worth an entire holiday, it is the waters that surround it that hold some of the greatest adventures.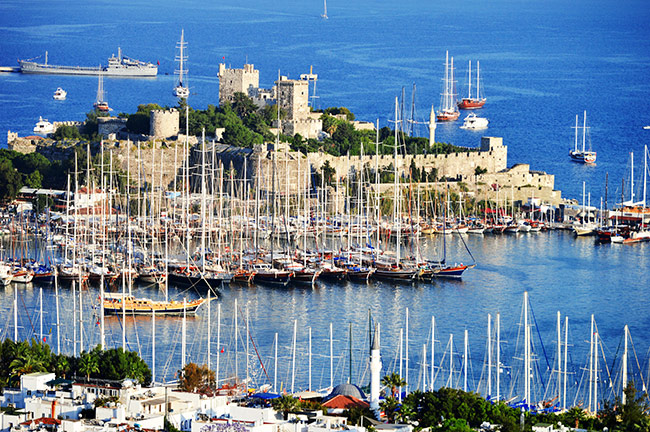 Bodrum harbour and Castle
Gulet cruises out of Bodrum
One of the most popular ways to see Bodrum is to take a Gulet cruise. These are the traditional wooden boats of the area that are designed to sail through the shallow and deep waters of the Aegean with ease. There are private boats and shared boats available. The amenities on-board are fantastic and it makes for one of the best ways to explore the area. You will never feel like you are doing the usual when you are on a Gulet cruise. Either charter a yacht , or charter a cabin in a gulet tour out of Bodrum, are avaialble during the summer season
Places to visit
The highlights of places to visit in Bodrum include the famous Bodrum port. This was the original line of defence for the city and as the city grew, it became a focal point for sea travelers. Near the port you will find several museums that you shouldn't miss. There is one dedicated to the sea-faring culture, displaying artefacts from all over the world provided by the sailors who came to the port of Bodrum. There is also a world famous archaeological museum that holds many of the finds from Turkey and the surrounding islands, including those found beneath the sea. Out in the city itself, you want to get a listing of the current market squares. Each becomes more active in its own season and you can find food, crafts and many surprising things to buy.
What does the city offer to travellers?
While Marmaris and Fethiye have cornered the market for providing nightlife and modern vacationing, Bodrum remains the queen of it all. One of the oldest cities, it hosts cultural events all year round. You can find everything from classic Turkish festivals to modern music and art festivals. Many of the events are staged in the cultural and heritage points around the city. The best way to experience Bodrum is from a Gulet. You get the best of both worlds this way. During the day you can come ashore to enjoy all of the markets and shops Bodrum has, while retiring at night to your private Gulet. There is so much offered by this city that you will never exhaust it as a holiday location.

By