There are many exciting places to see and things to do when you visit Turkey. Turkey is the country that straddles between Europe and Asia. Being in the middle of two continents, this country has so much to offer to visitors; the breathtaking natural beauty, its unique historical and archaeological sites and a tradition of hospitality which every tourist in the world would love.
Antalya: Where Nature and History Unites
It is not very surprising that Turkey has recently become one of the world's most popular tourist destinations. Among the most visited places in Turkey is the City of Antalya. It is the fastest-growing city in the country, and tourists from around the world love its diversity of beaches, which is also considered as a paradise for sunbathing, swimming and water sports because of its 300 days a year of summer.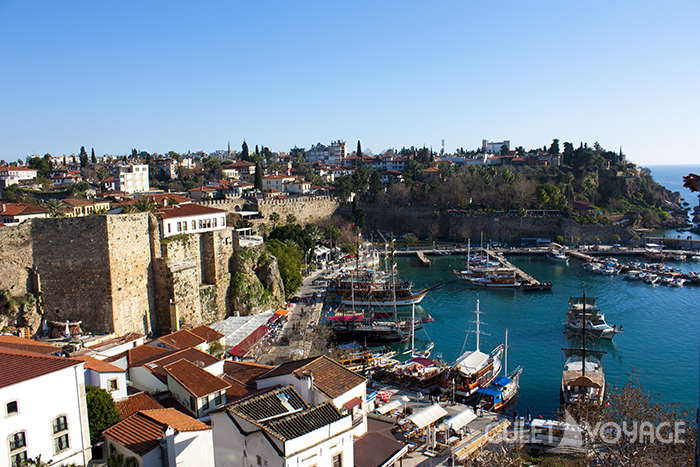 Kaleici Marina Antalya, Turkey
Antalya has three districts, Kas, Kalkan and Kekova.
Kas
Kas is a "Turkish Delight" city in the very south of Turkey. It has several rocky beaches and a postcard-perfect harbor. This place is perfect for rediscovering the numerous secret islands and coves along the coastline; the town itself is full of shops and lovely cafés that tourists would enjoy. It has also many decent, yet cheap hotels where travelers and tourists can stay while they enjoy the lovely scenery. Because of its steamy hot weather, the beach and other water adventures are mostly enjoyed in the area. For a very reasonable cost, tourists can enjoy diving, snorkeling, sea kayaking, and other water activities. Kaş is considered as the "Diving capital of the Mediterranean."
Kaputas Beach
Kas is situated between the Dalman Airport and Antalya Airport. There are various ways to reach Kas from both airports. However, if you wish to travel to Kas, the easiest but the most expensive way is to take a taxi from the airport to your destination; but if you're on a tight budget and wish to enjoy the place, you can take a bus or dolmuş (a shared/bus taxi of usually 12 passengers) however they stop in every small village along the way, which takes more time. You can also take a direct bus from Istanbul to Kas. It is a rather inexpensive way of getting to Kas from the country's capital.
Kalkan
This Mediterranean town in Turkey is known for its enchanting places, unique history and most beautiful beaches. Its unspoiled beaches with crystal clear waters are the pride of this wonderful town. When visiting Kalkan, make sure to take a trip to the world renowned Patara Beach. It is the most beautiful beach in the ancient Lycian. The beach has soft sand and shallow sea. This beach is protected by the environmental bureau because it is one of the places where sea turtles leave their eggs to hatch. It also has many rock coves to discover. It is known for good snorkeling and scuba diving areas as well.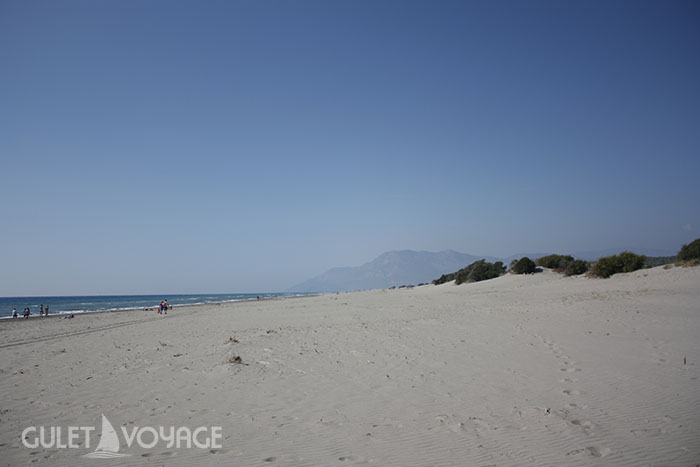 Patara Beach, the 18 kilometres (11 miles)-long
Tourists must also visit the ancient ruins in Demre where you can tour around the famous St. Nicolas Church, named after St. Nicolas who was the Bishop of this small town in the 4th Century. Tourists can also visit the ancient Myra just inland in the center of Demre. A number of well-preserved rock tombs of Lycian origin are carved into the cliff's face. There is also a huge Roman theatre. The ruins can be found about 2 km from the town centre.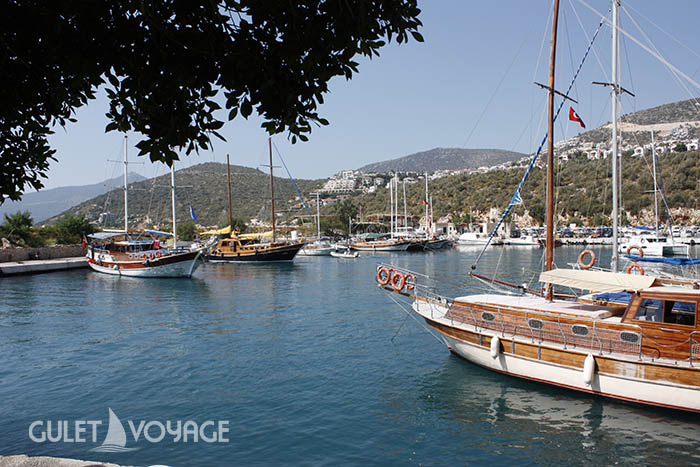 Kalkan Marina, Antalya Turkey
Kalkan is also known for its good food, so when you visit Kalkan, don't forget to try the local food found in the local restaurants that provide wholesome Turkish delicacies in its sophisticated and beautifully restored village homes. Tourists can reach Kalkan from Dalman airport via a 2 hour taxi ride. There are also bus rides from Istanbul to Kalkan. Tourists can get around the village by riding a taxi or simply enjoy and feel the wonderful sights by walking.
Kekova
Kekova Island is one of the most visited places in the Mediterranean. It is the home of wonderful underwater beauties. This scenic island is situated in the Demre District of Antalya. The offshore island of Kekova is one of the most interesting attractions in Antalya. It is famous for its beautiful harbor and the underwater ruins just off its shore, known as the Sunken City.
It is also known for its historical attractions and it has the cleanest waters in the Mediterranean. In this part of the Mediterranean, swimming is forbidden. However, divers with special permission are allowed to explore its underwater beauty and take photos of its historical buildings underwater that have been ruined and some have been covered by sea sand because of water current.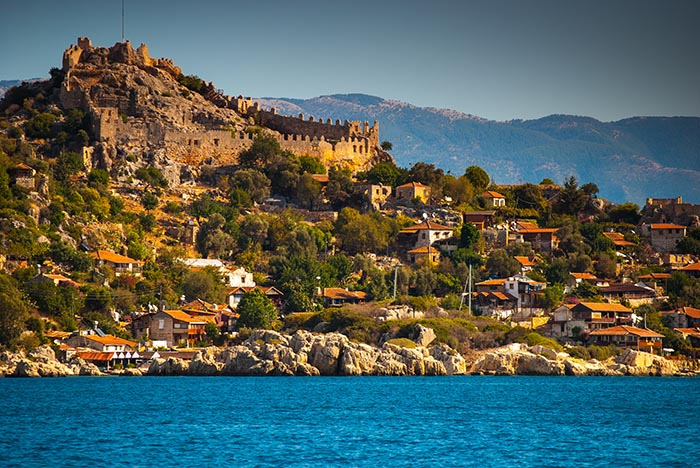 Ancient city in Kekova

The best way to get here is by a yacht cruise from Kaş, which takes you right up to the ruins so that you can peer down into the clear blue water. The Kekova Harbor and Sunken City that were once a Lycian trade center, now submerged under water as a result of earthquakes, draws the attention of local and foreign tourists. Truly, Turkey is a country rich in breath-taking places and well preserved historical attractions that tourists around the world must see. Antalya and its three districts are among these places that are worth visiting where nature and history unite.

For a great combination to visit this beautiful coastal area, check our "Kemer-Kekova-Kemer" cruise program, organized by cabin charter. Or get in touch with us to organize a tailor-made cruise for your private group.

By